Do you know what Video Box is?
Video Box is an application that should work in an extremely beneficial way. More specifically, it promises to allow users to download videos from hundreds of websites for free. It is compatible with YouTube, Dailymotion, Ntv.ru, NYTimes, Nhl.com, Newstube, Nextmovie.com, and other popular pages. There are a number of users who prefer to watch videos offline, so it is not at all surprising that Video Box has quickly become quite a popular application. Even though it might seem to be a perfect program, the truth is that it is not. Actually, it has even been classified as a potentially unwanted application by many specialists. We are sure you will have your own opinion about this program after reading this article, so go to read what our team of specialists has discovered about Video Box. If it happens that you no longer wish to have it installed after getting more knowledge about it and how it works, the information provided in the last paragraph will help you to delete Video Box fully.
Video Box is quite a useful application because users can get videos they want from a number of different websites by simply pasting the URL of the video in the box of Video Box and clicking on the Search button. All these videos will be presented in several different formats, so users could download only the version they prefer. Video Box might really seem to be a decent and beneficial application, but the truth is that it has drawbacks too. The most noticeable one is the presence of advertisements. Users report that ads appear at the lower part of the program window when videos are being downloaded on the computer. They might promote particular products, services, and even web pages. Users also often notice commercials promoting pages with the content for adults. Adult websites are the sources of malicious software, and hundreds of bad programs that can cause serious harm are promoted via them, so clicking on ads promoting such websites and then visiting them is not recommended. Actually, it would be best to ignore them all because these commercial ads placed on Video Box are capable of redirecting users to corrupted pages no matter what they advertise. Anything, including malware, might be found on these websites. On top of that, cyber criminals might try to steal details about users on these pages, for example, you will be asked to take a survey and then provide your name, surname, and other information for a chance to win an expensive item. The submitted information might then be sold to bad people. As can be seen, problems associated with the presence of advertisements on Video Box might arise, so you should think twice before letting this potentially unwanted program stay installed.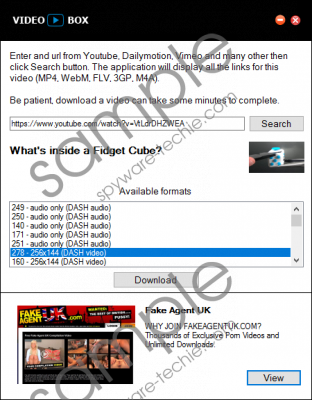 Video Box screenshot
Scroll down for full removal instructions
Video-box.org is the official website of Video Box, but, as research has shown, not all the users get it from its official website. Judging from the complaints users make, this application for downloading videos might be spread in a different way too. As has already been observed by our malware analysts, it travels in software bundles the most frequently. Of course, it does not travel alone in these bundles. In most cases, all kinds of free applications travel together with Video Box too. They could have already been installed on your PC if you see Video Box installed and cannot remember downloading it yourself. Software that comes together with this tool for video downloading should be erased if it has been installed alongside without direct permission. It is especially true if a user finds it useless because this software will only use PC resources and occupy space.
Potentially unwanted programs are usually quite easy to erase because they have uninstallers. The same can be said about Video Box. Users who have never tried deleting software themselves might still, of course, find this removal method complicated, but we have high hopes that it will be easier to get rid of this PUP with the help of our manual removal instructions (they are located below this article).
Delete Video Box
Windows XP
Open the Start menu.
Click Control Panel and click Add or Remove Programs.
Select the undesirable software.
Click Remove.
Windows 7/Vista
Click on the Start button in the bottom-left corner.
Click Control Panel to open it.
Click Uninstall a program.
Right-click on Video Box.
Click Uninstall.
Windows 8/8.1/10
Press Win+X and click Control Panel to launch it.
Find the unwanted program on the list and select it.
Click Uninstall to remove it.
In non-techie terms:
If you have read this report, you should already know that Video Box could have been installed on your PC with additional software. Even though we know that this could have happened, we cannot confirm that all new free programs promoted together with Video Box are really trustworthy, so it would be smart of you to scan the computer with an automatic scanner. No suspicious software will be left working on your system if you use SpyHunter.