Do you know what Video Box Ads is?
Video Box Ads is a devious application that should not be active on your personal computer. On its official websites, this program is advertised as a great tool that can help you download video content from popular sites such as YouTube, Dailymotion, and Vimeo. While it might sound like a great tool to have active on your PC, you must know that this program functions in a rather invasive manner. In fact, after a full investigation, this application has been classified as yet another adware program that can make surfing the web a much more annoying and frustrating experience. What is even worse is the fact that in some instances this devious program could be the primary reason your operating system might be subjected to suspicious and even malicious web content. To understand how Video Box Ads works and how you can remove completely, make sure to read the rest of our report.
The first major indication that Video Box Ads is already fully installed on your operating system is a browser filled with questionable and otherwise unwanted web content. Usually, such content manifests as various third-party ads, pop-ups, and coupons. This happens because the adware application in question starts a background system process. The devious process then initiates a connection to an adware server, which hosts all the invasive and unwanted content. As you can imagine having this ad-supported program up and running on your PC could be rather bothersome. That is so because for as long as it will be fully active and in connection to the devious server your web browser will be filled with undesirable and useless ads, pop-ups, and coupons whether you like that or not. In severe cases, your web browser could crash without any warning due to the vast amount of third-party content. It goes without saying that surfing the web the way you are used to, will be impossible due to the functionality of the adware program in question. The only way that you can regain your browser's default functionality once and for all is by executing a complete removal of Video Box Ads. Make sure to follow the instructions below, and you will get rid of it in no time at all. If you fail to delete this ad-supported application, the invasive content will continue to bother you.
Unfortunately, the invasive functionality of Video Box Ads is not the worst thing about it. Malware experts working at Spyware-Techie.com have discovered that in some instances this application could be rather dangerous. As it turns out not all ads, pop-ups, and coupons powered by this program are just annoying; some of them could prove to be potentially harmful. That is so because some of the content could be embedded with redirect links that could lead you to suspicious and even malicious websites. For example, by clicking on a seemingly harmless ad, you could end up on a site that runs an arbitrary code execution exploit. What is extremely dangerous about entering such a site is the fact that it might be enough to infect your PC with some unknown malware. There is also a chance that you could encounter fake online shops, which are infamous for being used by cyber crooks for a single reason - to steal your credit card data. Thus, if you ever find yourself on a questionable online store, be sure to always learn about it as much as possible before making any kind of purchase. Even though ads and pop-ups leading to such web pages do not occur often, the possibility of coming across one remains. Do not take any chances with Video Box Ads and conduct its complete without any hesitation.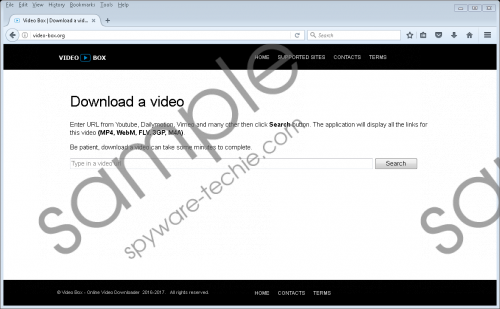 Video Box Ads screenshot
Scroll down for full removal instructions
The complete removal of Video Box Ads is a multiple-step procedure that you need to execute with care. Keep in mind that a single mistake could lead to an incomplete removal, which could have unwanted outcomes. For instance, a few traces linked to this adware could be used to restore it without any notification. In other situations, leftovers of Video Box Ads could be just enough for it to continue its intrusive and potentially dangerous functionality. If you want to be sure that every single of this ad-supported program has been removed from your operating system, be sure to analyze your operating system for its traces as soon as you are done with the instructions below.
How to remove Video Box Ads from your PC
Open your File Explorer.
Go to C:\Program Files.
Select a folder entitled VideoBox and then tap Delete on your keyboard.
Go to C:\Program Files (x86).
Select a folder entitled VideoBox and then tap Delete on your keyboard.
Go to C:\Users\[your username]\AppData\Local.
Select a folder entitled VideoBoxCore and the tap Delete on your keyboard.
Click the Windows button.
Type regedit into the search box and tap Enter on your keyboard.
Go to HKEY_LOCAL_MACHINE\SOFTWARE.
Select a registry key called VideoBox and tap Delete on your keyboard.
Go to to HKEY_LOCAL_MACHINE\SOFTWARE\WOW6432Node\Microsoft\Windows\CurrentVersion\Uninstall.
Select a registry key called Video Box_is1 and tap Delete on your keyboard.
In non-techie terms:
Some user might find manual removal a bit too complicated. If you happen to be one of those users, do not worry. Our malware experts have crafted an alternative removal guide. Follow the instructions below and you will be able to delete Video Box Ads automatically.