Do you know what Video Abductor is?
Video Abductor is one of those applications that should help users download videos from online streaming sites. There are programs and websites that offer this function, and users are free to choose which program or website they want to use. However, sometimes such applications enter user computers accidentally, and users are left confused as to why they have these programs. If it was not your intention to have this video downloader on your system, you can remove Video Abductor following the instructions you will find below the description. Please note that the program leaves leftovers, so deleting it via Control Panel may not be enough.
This program in question has an official website at videoabductor.com. Our research team says that the infection source is at videoabductor.xyz, which is a third-party website completely unrelated to the official one. This means that the application can be distributed via third-party pages that may not be concerned with your system's security. For instance, the application could come bundled with freeware, and you may not even realize that you install Video Abductor on your PC. That is why security experts maintain users should be careful when they add new applications to their systems. If you downloaded a program from a file-sharing site, perhaps it would be a good idea to scan the installer file with a reliable antispyware tool. Just to be sure that the file does not come with additional programs and features.
As far as the official stance is concerned, Video Abductor is promoted as "the most efficient solution to all of your video downloading needs, regardless if you are looking for a video, new song, book-tape or online tutorial, Video Abductor makes it easy to acquire and save for future use." That certainly sounds nice, but our security team has a few doubts about it. The problem is that the official website says this application works "for all Windows Platforms." However, when we tested this program in our lab, we have found that the application does not work as well as it is supposed to.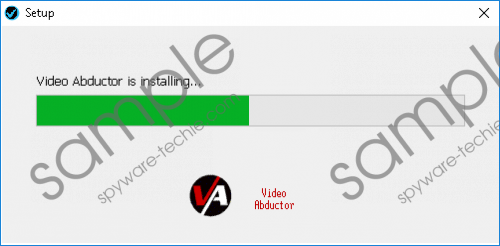 Video Abductor screenshot
Scroll down for full removal instructions
For instance, we were not able to install it on Windows 7. The program allowed us to download audio files on Windows 10, but we had a few glitches with videos files on the platform. What's more, after a while the icon becomes inactive, and it is not convenient to use. Not to mention that even if you install it via Control Panel, Video Abductor leaves files that are not removed automatically. Needless to say, no one would want to have anything to do with an application that does not even allow users to remove it properly.
That is why we categorize Video Abductor as a potentially unwanted program. It is not a malicious infection because users generally agree to install it on their systems. Yet, the program comes with certain features that we do not consider desirable. What's more, there might be more unwanted applications installed on your system, and this video downloader could be just a beginning of something annoying and probably nasty.
Of course, Video Abductor cannot destroy your system or steal your money. But when you install this application you "allow Disruptive Technologies to utilize your systems resources for page navigation, audio/video streaming, and/or processing of mathematical calculations as a result of using ad-free software." This is a quote taken directly from the program's License Agreement, and perhaps you would not want the creators of this software to have access to your system's resources. Especially, if we are talking about accidental installation here.
Therefore, you need to remove Video Abductor and everything related to this application from your PC. If you are not sure you can do it on your own, you can always run a full system scan with the SpyHunter free scanner to determine just how many unwanted files and programs are there. It is also possible to remove the unwanted applications automatically if you want to.
After all, a reliable security application will help you ensure your system's safety in the future. If you need more information on system security or on potentially unwanted programs, you can always leave us a comment. Our team will be ready to assist you.
How to Remove Video Abductor
Press Win+R and enter regedit. Click OK.
Go to HKEY_CURRENT_USER\SOFTWARE.
Delete the VideoAB key. Go to HKEY_CURRENT_USER\Software\Wow6432Node.
Delete the VideoAB key.
Go to HKEY_LOCAL_MACHINE\SOFTWARE\WOW6432Node\Microsoft\Windows\CurrentVersion\Uninstall.
Remove the Video Abductor key.
Go to HKEY_LOCAL_MACHINE\Microsoft\Windows\CurrentVersion\Uninstall.
Delete the Video Abductor key. Exit Registry Editor.
Press Win+R and enter %LOCALAPPDATA%. Click OK.
Delete the VideoAB folder and go to your desktop.
Delete the Video Abductor.lnk shortcut.
In non-techie terms:
Video Abductor is not a malicious computer infection, but this program may enter your PC without your conscious permission. It is important that you remove this application for good, if you did not want to have it on your PC. Potentially unwanted programs tend to travel in groups, so when you delete Video Abductor, please make sure to look for other undesirable applications. The best way to do that is to run a full system scan with a license security tool of your choice.