Do you know what Vesrato Ransomware is?
Vesrato Ransomware is one of those malicious file-encrypting threats that are used to gain leverage over a victim and demand for a ransom. To be more precise, the malware is programmed to encrypt files that could be valuable to a user, e.g., his documents, photos, videos, and other similar file types. Next, the threat should display a ransom note that offers decryption tools in exchange for 490 US dollars. It is not a small amount of money, and by paying it, you would be funding cybercriminals. Not to mention, even after transferring this sum, you would still have no guarantees that the hackers will send promised decryption tools. Therefore, you should think carefully before agreeing to any terms. Of course, if you have backup copies or do not want to put your savings at risk, we advise ignoring the ransom note. Also, since the malware auto starts with Windows, we recommend erasing Vesrato Ransomware, if you do not want to risk losing more of your files.
Knowing how threats like Vesrato Ransomware are distributed can help you avoid them in the future. According to our computer security specialists, a lot of these malicious applications travel with email attachments, software installers, and other content found on the Internet. Of course, we are not talking about data that comes from legitimate sources. What we mean is attachments from unknown senders or emails classified as Spam, installers or updates from unreliable file-sharing websites, such as torrent sites, and so on. Naturally, the safest thing you can do is never launch files received from untrustworthy sources. If you feel tempted, you should at least invest a minute in scanning suspicious data you want to start before opening it. For this task, we advise acquiring a reputable antimalware tool that could guard your computer against various threats.
If Vesrato Ransomware successfully sneaks in, the malware ought to begin the encryption process, during which it should encipher files considered to be personal and valuable to a victim like photos. Each affected file should get a second extension called .versato, which is where the malware's name comes from. After the encryption process is finished, the malicious application ought to announce its presence on a system by opening a text document called _readme.txt. Inside of it, there should be a message saying all files were encrypted, but there is a way to restore them. Next, the Vesrato Ransomware's note ought to explain that its creators have necessary decryption tools and can sell them for 490 US dollars or 980 US dollars if a victim does not contact them within 72 hours. Nonetheless, we advise users to take their time and think twice before agreeing into anything. As you see, paying a ransom is always risky as no one can guarantee the hackers will hold on to their end of the deal.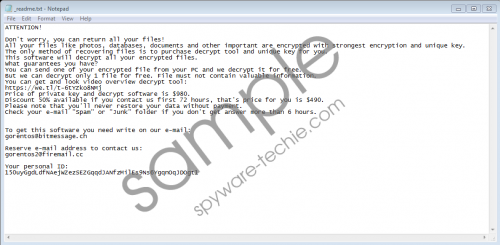 Vesrato Ransomware screenshot
Scroll down for full removal instructions
If you decide you do not want to pay a ransom, we recommend closing the ransom note and concentrating on removing Vesrato Ransomware. It would be dangerous to leave it unattended since it can auto start with Windows, and every time it runs, it could encrypt new files it has not affected yet. To prevent this, we advise deleting Vesrato Ransomware with the removal guide placed below or with a reputable antimalware tool of your choice.
Eliminate Vesrato Ransomware
Press Ctrl+Alt+Delete.
Pick Task Manager and check the Processes tab.
Locate a process belonging to the malware.
Choose the process and click End Task.
Exit Task Manager.
Click Windows Key+E.
Navigate to the suggested paths:
%TEMP%
%USERPROFILE%Desktop
%USERPROFILE%Downloads
Find a file opened when the device got infected, right-click the malicious file and select Delete.
Find this location: %LOCALAPPDATA%
Look for a folder with a long name from random characters, e.g., 0115174b-bd55-4caf-a89a-d8ff8132151f
Right-click the malicious folder and select Delete to erase it along with all data inside of it.
Find a file called PersonalID.txt in the C:\SystemID directory, right-click it and pick Delete.
Locate text documents called _readme.txt, right-click them and select Delete.
Exit File Explorer.
Empty Recycle bin.
Restart the computer.
In non-techie terms:
Vesrato Ransomware might get in when you least expect and ruin all of your personal files. The malware encrypts victims' data with a robust encryption algorithm, which leave no other choice, but to search for a decryption tool or replace encrypted files with backup copies. Unfortunately, not all users make backup copies, which is why some of them risk their money for a chance to get their precious files back. As you see, hackers behind the threat claim to have needed decryption tools and offer them for a price. What you ought to know before agreeing to any deals is that there are no guarantees the hackers will send the promised decryption tools. Thus, you should not rush and think about whether you want to take any chances. Another thing we recommend is deleting Vesrato Ransomware before it causes you more troubles. To erase it manually, you should check the removal guide available above. If you think the process is too complicated even with the instructions, we advise employing a reputable antimalware tool instead.