Do you know what Venom Ransomware is?
Perhaps you do not need a separate introduction to Venom Ransomware because you most definitely know that this is a malicious infection that wants your money. If you're reading this description, you must have been infected with this ransomware program, and you're looking for a way to get rid of it. It is not hard to remove Venom Ransomware from the infected computer because this program does not drop additional files. However, you may have to come to terms with the fact that it is not possible to restore encrypted files, so you have to be ready to face that.
Whenever we talk about ransomware infections, we have to determine the distribution methods so that users were able to avoid such infections in the future. Usually, Venom Ransomware and other similar infections travel via spam email. You are probably used to spam email by now because we receive such messages every single day. For the most part, spam email gets filtered into the Junk mail folder, and we do not need to worry about that. However, there are also sophisticated spam messages that get into the main inbox and urge users to interact with their content.
Such messages often look like notifications from banks, online stores, financial institutions, and so on. For example, if a spam email looks like an online shopping invoice, the targeted user may feel inclined to open the attached file even if they haven't purchased anything recently. The moment they open that file, the infection enters the target computer. Therefore, you have to think twice before you open any downloaded file. If possible, you should scan downloaded files with a reliable antispyware program. That would help you avoid potential malware infection.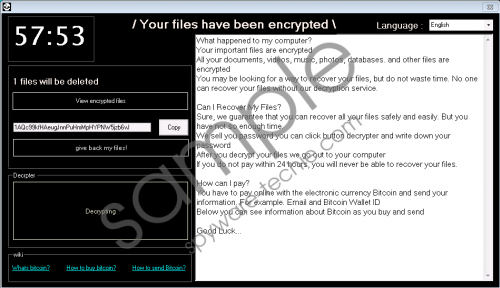 Venom Ransomware screenshot
Scroll down for full removal instructions
On the other hand, if Venom Ransomware is already there, we should look at what happens when the program affects a target system. Just like most of the ransomware infections, this program runs a full system scan looking for the file types it can encrypt. Our research shows that this infection encrypts all the important picture and document formats. It is also easy to see which files get encrypted because the program adds an extension to the filenames. For instance, a flower.jpeg filename changes into flower.jpeg.venom after the encryption, and the system can no longer read the file.
When the encryption is complete, Venom Ransomware displays a ransom note that says the following:
What happened to my computer?
Your important files are encrypted
All your documents, videos, music, photos, databases, and other files are encrypted
You may be looking for a way to recover your files, but do not waste time. No one can recover your files without our decryption service.

Can I Recover My Files?
Sure, we guarantee that you can recover all your files safely and easily. But you have not so enough time.
<…>
If you do not pay within 24 hours, you will never be able to recover your files.
<…>
You have to pay online with the electronic currency Bitcoin and send your information.
Needless to say, there is no guarantee that the criminals behind Venom Ransomware would issue the decryption key even if you were to transfer the ransom fee. Not to mention that it is never a good idea to give your money away to these criminals. After all, by paying the ransom fee you would only encourage these people to carry on with their malicious deeds. Hence, you have to ignore the message on your screen, and carry on with removing Venom Ransomware for good.
As mentioned, you can delete Venom Ransomware by simply erasing the file that launched the infection. As for your files, you can get them back if you have a file backup in an external hard drive. Or, if you have your data saved on a cloud drive, you can also transfer them back to your main hard drive once you have malware removed and the encrypted files deleted.
For the final touches, please scan your system with a licensed security tool because you have to make sure that there are no other unwanted programs on-board. You should also do everything you can to protect your system from similar infections by investing in a powerful antispyware tool.
How to Remove Venom Ransomware
Go to your Downloads folder.
Remove the most recently downloaded files.
Scan your PC with SpyHunter.
In non-techie terms:
Venom Ransomware is a dangerous infection that corrupts personal files. It may not be possible to restore the affected data, but you can still remove this malicious program. It is unfortunate that the effects of a ransomware infection cannot be easily reverted, but your job right now is to protect your system and your data from similar attacks in the future. Should you need any help with safeguarding your computer, please feel free to leave us a comment.