Do you know what VeePN is?
VeePN is advertised as a "Fast, ultra secure, and easy to use VPN service." While it may sound like a perfect VPN tool, you should know that it was categorized as a potentially unwanted program. It does not mean that the application is malicious. Still, specialists recommend being careful with such software, so it might be a good idea not to rush with its installation. On the other hand, if you have already installed it, but realize you do not want to keep it anymore, you can use our removal guide available below that will show how to delete VeePN manually. Of course, if you want to know more about the potentially unwanted program before deciding if it should stay on your browser or not, we invite you to read our full article.
VeePN can be obtained from its homepage (veepn.com) and Chrome Web Store. The application should not be available on other browsers' stores as it does not seem to be compatible with other browsing applications yet. Besides the mentioned channels, there is a change that extension could be distributed via unreliable file-sharing web pages, advertisements, or redirects, just like other potentially unwanted programs. Usually, we recommend users not to download software from untrustworthy sites or while interacting with questionable pop-up ads if they want to keep away from potentially unwanted programs, adware, browser hijackers, and applications alike. Also, it is crucial to find more information about any program you come across that would help you determine whether it is trustworthy. However, being carefull is not always enough, so, as a precaution, we recommend picking a reputable antimalware tool that could keep your system clean and protected.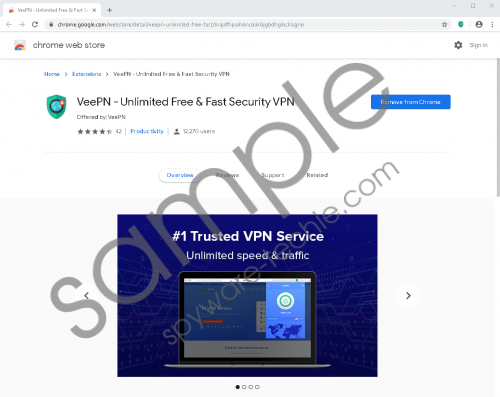 VeePN screenshot
Scroll down for full removal instructions
Our researchers say that VeePN does provide VPN services just as its description promises. Also, it does not look like the application changes user's browser preferences, such as default search engine like other similar potentially unwanted programs do. Nonetheless, as you place it on your browser, it could ask you to permit it to read and change all your data on the websites you visit, display notifications, manage your apps, extensions, and themes, communicate with cooperating native applications, and change your privacy-related settings. Some potentially unwanted programs employ some of these permissions to display advertising content while a user is browsing. The possibility this extension could do so as well might bother users who hate advertisements and targeted material. Also, users who value their privacy might be concerned about the last mentioned permission, which may allow the application to change privacy-related settings. If you think it would be unwise to give a potentially unwanted program such permissions, you could erase VeePN.
Users who decide to delete VeePN have a couple of options. The first way to get rid of it is to remove the extension manually by accessing your browser's extensions menu. If you have never done anything like this and need any guidance, you should follow the removal guide placed at the end of this paragraph. The other way to erase VeePN is to get a reputable antimalware tool, perform a full system scan, and press its displayed deletion button to eliminate the potentially unwanted program and other possible detections.
Delete VeePN
Open Google Chrome.
Paste this link: chrome://extensions into the browser's address bar.
Press Enter and search for the potentially unwanted program.
Tap Remove and exit Extensions menu.
Restart your browser.
In non-techie terms:
VeePN is a browser extension that provides VPN services. It looks like it is compatible with Google Chrome alone at the moment of writing, but it is possible the application could still be upgraded. If a user decides to add the extension, he might be asked to agree with particular permissions, such as "Read and change all your data on the websites you visit," "Display notifications," "Manage your apps, extensions, and themes," and a few others. For some users, such qualities could be unwanted, which is likely one of the reasons why the application was classified as a potentially unwanted program. If it bothers you as well that this extension may need such permissions, you could erase it. To eliminate VeePN manually, you could use the instructions located above this article. To users who prefer using automatic features, we advise employing a reputable antimalware tool of their choice.