Do you know what VeberGreat is?
If VeberGreat has entered your system, you should definitely not keep it there because it is an advertising-supported application that is going to show you various advertisements on different websites. Thus, if you do not remove it from the system, you can expect to notice different pop-ups, banners, in-text, and interstitial ads. They might appear any time and thus disrupt your browsing processes. Of course, you can prevent this from happening – you just have to erase VeberGreat from the system and never install it again. You should also keep your antimalware tool enabled all the time in order to be able to avoid similar programs in the future.
It has been found out that VeberGreat is not as innocent as it might seem because it is very probable that it is going to collect some of the information related to your browsing habits. This data consists of browsing history, the time you spend on particular websites, and such technical information as the version of your OS, your approximate location or your internet service provider. All this data is basically required in order to show you relevant advertisements. As you can see, the publishers try to lure you into clicking on those ads. It is because they receive money for that. However, they will not do anything good for you; instead, it is very probable that you might end up in corrupted websites if you do not stop clicking on those commercials. We believe that it is not worth risking; thus, we recommend that you erase VeberGreat without any further considerations.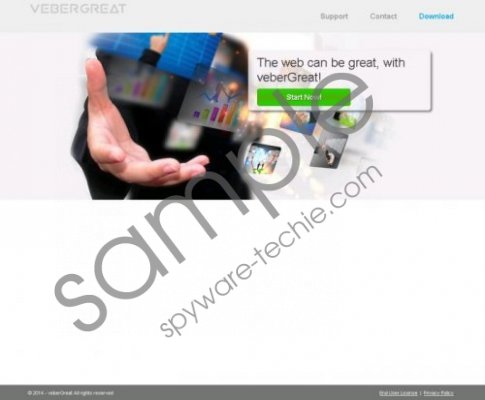 VeberGreat screenshot
Scroll down for full removal instructions
Even though VeberGreat has its official website, which is vebergreat.net, it is very probable that it might come on the system without your direct permission as well. It happens when you install new software and do not unmark the installation preferences in order to block the way for additional applications. You should always choose Custom or Advanced installation options during the installation of new programs. If you do so, you will have an opportunity to choose what to install. However, if you have already noticed various undesirable programs running on your PC, we definitely recommend erasing them from the system.
This advertising-supported program might be removed from your system very easily – via Control Panel. If you feel that it is too difficult, you can use the instructions provided below the article. If you follow them, you will definitely not experience any inconvenience. The automatic removal is also possible, but you have to acquire a reliable tool first.
Remove VeberGreat
Windows XP
Open the Start button.
Select Control Panel.
Select Add or Remove Programs.
Click on the application that needs to be erased.
Click Remove.
Windows 7 and Vista
Click the Start button to open the menu.
Select Control Panel.
Click Uninstall a program.
Right-click on VeberGreat and then select Uninstall.
Windows 8
Start typing "Control Panel" and then select it after accessing the Metro UI menu.
Click Uninstall a program.
Select the application that you wish to erase and click Uninstall.
In non-techie terms:
Advertising-supported applications are not going to do anything beneficial for your system and keeping them there is rather dangerous because all these advertisements might take you to the websites that contain malicious software. You should always find out more information about the program you are going to install in order not to end up with undesirable programs like VeberGreat in the future.
Aliases: Veber Great.