Do you know what VebaSearch.com?
You might not believe it, but VebaSearch.com is an adware application. At first glance some users might think that this program is a browser hijacker because when you access VebaSearch.com directly, you can see a search engine. Nevertheless, this search engine does not work, and it cannot modify your homepage settings. Truth be told, this application can collect data on what websites you visit and it can also expose you to unreliable third-party content. Therefore, if you want to protect your computer from potential security issues, you will remove VebaSearch.com immediately.
Users are often confused about as to why VebaSearch.com is present on their computers in the first place. They do not remember downloading the program, but there is a reason to it. It is obvious that VebaSearch.com cannot be downloaded directly, which is a common trait among almost all adware applications. Hence, since there is no direct download link available, VebaSearch.com often gets distributed bundled with potentially unwanted programs. Our research team says that this application gets with InstallQ bundles. It means that whenever you download a program that uses InstallQ installer, there is a good chance that you will install more applications than just the program you want.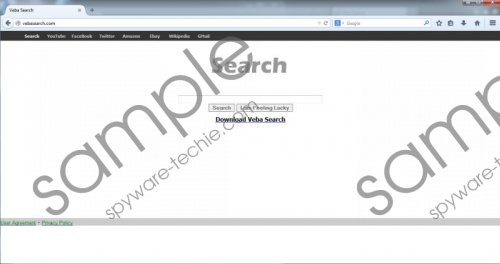 VebaSearch.com screenshot
Scroll down for full removal instructions
Take note of the list of programs that VebaSearch.com travels with: Content Explorer, AstroArcade, PC Optimizer Pro, Resultsbay, Storm Watch. If you have recently downloaded any of the aforementioned programs, check the Extensions section on your web browser to see whether you have VebaSearch there or not. You most probably do.
Although VebaSearch.com does not bombard you with annoying commercial ads directly, it can still expose you to corrupted content by replacing original website ads with its own. You do not really have to access commercial websites to encounter VebaSearch.com ads. Even the most reliable websites may display commercial ads, and if VebaSearch.com affects your computer, the ads in those websites can be replaced by unreliable third-party advertisements.
The most important thing is to avoid clicking VebaSearch.com ads. Since adware applications do not review the ad content, VebaSearch.com could get easily exploited by cybercriminals to display and promote their content. Consequently, you could be easily redirected to online marketing surveys, adware-related websites, and even pages that distribute malware. This shows that having an adware application on your computer is not a good idea, and you need to remove VebaSearch.com from your computer as soon as possible.
Open Control Panel and uninstall this extension. If you think that there might be more unwanted programs on board, but you have no idea which programs must be removed, scan the system with a licensed antispyware tool. For any further questions on VebaSearch.com or its removal, please leave us a comment.
Manual VebaSearch.com Removal
Windows 8
Drag mouse cursor to the bottom right of the screen.
When Charm bar appears click Settings and go to Control Panel.
Select Uninstall a program and remove VebaSearch.
Windows Vista & Windows 7
Click Start menu and go to Control panel.
Select Uninstall a program and remove VebaSearch.
Windows XP
Click Start menu and navigate to Control panel.
Double-click Add or remove programs and uninstall VebaSearch.
In non-techie terms:
VebaSearch.com is an adware application that can lead to specific computer security issues if you allow it to remain on your system. Terminate this program and invest in a licensed computer security application to safeguard your system against potential threats in the future.