Do you know what Veba Search is?
According to the latest research, Veba Search is a search engine which is related to suspicious online advertising. If you go to vebasearch.com, you will be introduced to a search box linked to an unreliable and useless search engine, and a download button offering to install Veba Search. This button actually represents the installer of a browser extension – not a search tool. Even though this installer is currently inactive, our researchers warn that the program could be infiltrated using other channels. It has been discovered that the program based on the BestToolbars engine is often distributed using InstalIQ bundles. Due to this method of distribution, some users may have no idea that they need to delete Veba Search.
Veba Search can be installed packaged with potentially unwanted programs, adware, fictitious malware removers, fake media players, and other questionable software. After inspecting this adware (advertisement-supported software) in the internal lab, we have discovered that it could travel alongside AstroArcade, ResultsBay, StormWatch, and other suspicious software. It is up to you to delete these programs successfully, and sometimes the removal of threats associated to Veba Search may be more complicated than the removal of adware itself. Needless to say, this does not mean that the removal of adware is not as important. If you do not remove Veba Search, the official advertisements on different websites will be replaced with the potentially unreliable ads promoted via suspicious adware servers.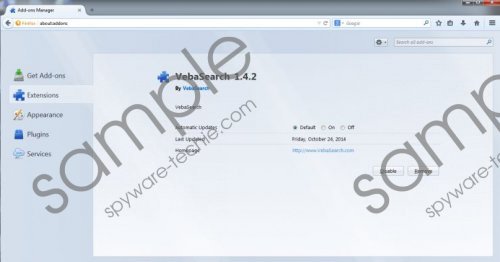 Veba Search screenshot
Scroll down for full removal instructions
If you remove Veba Search, you will not need to worry about the suspicious advertisements, the data-tracking cookies, and the intrusion of unreliable parties. Of course, the risks will prevail if you do not delete Veba Search associated infections as well. To remove Veba Search manually, follow the instructions below. If you do not know how to delete other infections, you should not bother with manual removal of adware, because automatic malware removal software will delete all threats. If you still want to get rid of running infections yourself, we recommend using a malware scanner to identify them.
Delete Veba Search from Windows
Delete from Windows 8:
Tap the Windows key to access the Metro UI menu and right-click on the screen.
In the presented pane click All apps and then select Control Panel.
Go to Uninstall a program and right-click the application you wish to delete. Select Uninstall.
Delete from Windows Vista and Windows 7:
Move to the bottom-left corner of the desktop and click the Windows logo on the Taskbar.
Select Control Panel to open a menu and click Uninstall a program.
Right-click the application you wish to remove from the PC and select Uninstall.
Delete from Windows XP:
Click the Start icon on the Taskbar to open a menu and select Control Panel.
Now double-click Add or Remove Programs to find the list of available uninstallers.
Select the undesirable program and click the Remove button.
In non-techie terms:
Veba Search may be presented as a search engine; however, it is also an advertisement-supported program that may be installed onto your operating system. You must remove this adware from the PC to protect your own virtual identity. It is impossible to know what kind of ads the program will represent, which means that there is a risk of facing unreliable and misguiding offers linked to untrusted parties. We recommend using automatic malware removal software to delete Veba Search, and you can install this software using the guides below.