Do you know what VaultCrypt Ransomware is?
VaultCrypt Ransomware is a malicious infection that will encrypt a number of your files and will ask for a ransom fee. According to this program, users need to pay the ransom in order to get a decryption key that would allow them to decrypt their files. Nevertheless, it is recommended that you remove VaultCrypt Ransomware from your system as soon as possible instead of paying the money, as this way you would only help cyber criminals attain their goals. You should also protect your computer from the likes of VaultCrypt Ransomware in the future by investing in a powerful antispyware tool.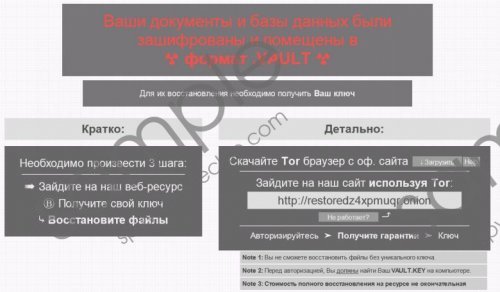 VaultCrypt Ransomware screenshot
Scroll down for full removal instructions
In fact, the best way to avoid VaultCrypt Ransomware and similar ransomware infections is staying away from unfamiliar websites, especially those that have multiple pop-up ads appearing out of nowhere. What's more, you should refrain from downloading freeware from file sharing websites, and opening spam email attachments because that is the straight way towards VaultCrypt Ransomware infection. On top of that, you might also end up having more dangerous programs that will be really hard to remove manually. Either way, you should take your computer security seriously and exercise safe web browsing habits.
Judging from the message in Cyrillic that VaultCrypt Ransomware leaves on your computer, the infection has been created by Russian hackers to terrorize the Russian-speaking users. Nevertheless, the latest development has shown that VaultCrypt Ransomware is slowly making its way into the computers of the English-speaking users as well, so no one can be safe at this point.
When you get infected with VaultCrypt Ransomware, the program affects *.1cd, *.dbf, *.sqlite,*.jpg,*.zip, *.psd, *.dwg, *.cdr,*.cd, *.mdb, *.xls,*.doc,*.pdf, and *.rtf extension files by encrypting them and changing the extension to .vault. If you try to click the encrypted file, you will be presented with the following message:
VaultCrypt [Permission Error: No Key]

STORED IN VAULT:
C:\Users\User\Documents\invoice.doc.vault

Visit for key: http://restoredz4xpmuqr.onion

[accessible only via Tor Browser: http://torproject.org]
VaultCrypt Ransomware blatantly tells you that you need to access a particular website in order to get the decryption key. You can be sure that you will be asked for the money, but you should never do that. For one, there is no guarantee that the VaultCrypt Ransomware decryption key would really restore your file access, and the most important thing is that you should not allow the cyber criminals to reach their goals this easy.
Computer security experts say that there might not be a way to restore your files without the original decryption key. Therefore, even if you remove VaultCrypt Ransomware from your, you will not be able to regain file access. On the other hand, you can restore your files from a backup (if you have one). If not, it is the perfect time to back up all of your files on a virtual cloud drive or an external hard disk because you can never know when such infections like VaultCrypt Ransomware would enter your system again. Save yourself the trouble of removing malware from your system by protecting the PC with a licensed antispyware application right now.
In non-techie terms:
VaultCrypt Ransomware is a dangerous computer infection that is usually distributed through Trojans. It virtually denies access to most of your files by encrypting them and then asks for a considerable ransom fee. Keep your money to yourself, remove VaultCrypt Ransomware immediately and restore your files from the backup that you have made previously. For an alternative malware removal method, refer to the instructions below.