Do you know what Utilitab Secure is?
It is possible that you find Utilitab Secure new tab extension in your Google Chrome browser as your new home page and new tab page, and you have no idea how it has got there. Our researchers have found that this application is a potentially unwanted program (PUP) because of certain behaviors it has exhibited. Apart from the potentially unreliable content it provides you with, it is quite possible that this PUP sneaks onto your PC in a freeware bundle that may be packed with several malware infections. This is certainly a suspicious act that should not be tolerated by any security-minded computer user. Although we cannot claim that this extension is a severe blow to your virtual world, you need to understand that the slightest chance of being introduced to unsafe content may put your system security at risk. Therefore, we suggest that you remove Utilitab Secure as soon as possible if you want to protect your system from further security-related issues in the form of malware infections.
There are a number of channels through which this PUP can appear on your computer. First, let us see the official ones, which are most likely the least frequent sources for users to get infected with this useless application. You can find this PUP, for example, in the Chrome web store at chrome.google.com/webstore/detail/utilitab/egjklemoogmbjackmjcjbhfpmncgfacb. We must warn you, though, that just because you find an extension in this store, it does not mean that the extension is legitimate, useful, and reliable. Unfortunately, there may be hundreds of applications there that have not yet been reviewed by Chrome or reported by users as potentially harmful. Once this happens, such extensions get usually blocked by the newer versions of Google Chrome browsers. This is the future that this application may also face one day.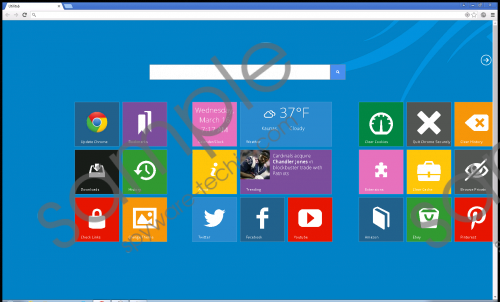 Utilitab Secure screenshot
Scroll down for full removal instructions
Of course, this tool also has its own promotional page, utilitab.com, where you can also install it. But our researchers would like to warn you that this extension seems to require quite a few permissions to work. This means that once you add this tool to your Chrome browser, you practically accept and agree that this application can: read and change all your data on the websites you visit, read and change your browsing history, communicate with cooperating websites, change your search settings, and detect your physical location. You may have an idea about that the last permission, i.e., the detection of your physical location can be a rather sensitive issue. We do not believe that such a worthless extension should be granted these abilities. As a matter of fact, we would recommend that you delete Utilitab Secure instead.
Nevertheless, there is little chance that you wanted to install this PUP knowingly, i.e., through these official channels. We think that there is much more likelihood in that you visited shady file-sharing websites while searching the web for free programs and clicked on unreliable content. Pornography-related, torrent, and shareware websites are infamous for hosting questionable third-party content, such as banner and pop-up ads. It is easier than you think to click on some misleading ad and download a malicious bundle when you are viewing an unfamiliar website. Many of these sites contain multiple download buttons, for instance; however, only one may be a real download button while all the other ones are fake. Clicking on such content should be avoided so that you can protect your system. We also recommend that you stay away from questionable websites.
This application is originally a new tab extension for Google Chrome. It tries to look very similar to the Windows 8 Metro UI screen. This new tab page provides you with a questionable search tool that is supposed to be served by search.utilitab.com. However, all your queries get redirected to a bing.com search results page, which might get modified on the way and display you unreliable content, such as third-party ads and sponsored links "mysteriously" injected by this tool. Below the search box you can find several thumbnails in groups. You can supposedly access certain websites, browser settings, and even updates through these quick links. Unfortunately, we have found that by clicking on these, new browser windows may pop-up with third-party advertisements. Clicking on any of these could be a bad decision because you may be taken to unsafe websites run by crooks. That is another reason why we advise you to remove Utilitab Secure.
Finally, we can tell you something good: It is very simple to put an end to this annoying PUP. Go to the Extensions settings in your Chrome browser and simply remove it. If you need step-by-step instructions to assist you, please follow our guide below. Since there may be several malware infections also on your computer, we recommend that you take care of them as well because otherwise your PC will not be secure. You can try to eliminate these threats manually, one by one, but we suggest that you use a professional anti-malware application that can also protect you automatically from further invasions.
Utilitab Secure Removal from your browser
Google Chrome
Press Alt+F and go to Settings.
Choose Extensions on the left.
Click on the trash icon next to the Utilitab Secure extension.
Press Remove.
In non-techie terms:
Utilitab Secure is a questionable Google Chrome browser extension that may cause more security issues than pleasant and useful moments for you. As a matter of fact, our researchers have labeled it as a potentially unwanted program due to the suspicious traits it showed while it was tested in our internal lab. This program may come on board in free software bundles that can contain a number of malicious software installers. This way, your system security may become seriously vulnerable and exposed to cyber criminals. Therefore, we advise you to remove Utilitab Secure along with all other related infections. If you do not want to manually eliminate all these applications and the mess they created on your system, you should use a reliable malware removal application.