Do you know what UpdateSearch is?
UpdateSearch is a potentially unwanted application. This means that the app is far from a malicious infection, but it shouldn't be tolerated if it arrives at your system accidentally. Users tend to install such apps without paying too much attention to them, and then they get surprised that the unwanted apps perform all sorts of browser settings modifications. If you weren't expecting to see your search engine settings changed too, you might want to remove UpdateSearch from your system right now. For that, scroll down to the bottom of this description for the manual removal instructions.
This application is actually a Chrome extension, so it shouldn't be a surprise that we can find it on the Chrome Web Store. It only proves once again that this application is not a malicious infection. Although it is very unlikely that users add the app to their browsers from the official sources, the presence of one means that UpdateSearch doesn't hide and doesn't trick users into downloading and adding it to their browsers.
Some people might say that they don't remember adding UpdateSearch to their browsers, and we understand that. We have to keep in mind that potentially unwanted programs employ numerous distribution methods, and it is common for these apps to reach their final destinations in software bundles. Software bundles refer to a package of several applications that users can download from file-sharing websites. Usually, it is not illegal to download freeware from such pages, but it might not be entirely safe. Third-party installers could bundle together even more sinister apps (UpdateSearch is just a meek example), and you could end up with multiple unnecessary applications running on your system.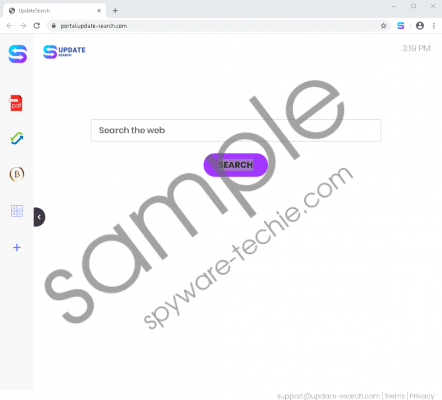 UpdateSearch screenshot
Scroll down for full removal instructions
How to avoid that? Well, first, you have to read carefully. If you download freeware from file-sharing pages, read the installation steps through and through. If you can opt-out, opt-out. Skipping installation steps often results in unwanted setups. Also, if possible, refrain from downloading apps from third-party sources. Refer only to the official vendor websites when you need a new program because that way, you would minimize the potential of a bundled download.
Also, when you browse the web, and you get a redirect or a pop-up, read the notification on that pop-up carefully instead of just clicking the boldest button. It's very likely that by clicking that button you agree to add UpdateSearch to your browser and you give the app your permission to:
Read your browsing history

Change your search settings to: feed.update-search.com
So, in a sense, you agree to the browser modifications even if you do not read the notice carefully. And once UpdateSearch is on your browser, it will start collecting information on your web browsing history. That information is usually used for online marketing tactics and third-party advertising. Of course, there's nothing illegal about that, but apps like UpdateSearch cannot ensure the safety of the third-party content they display. Thus, you have to tread carefully.
Is UpdateSearch actually useful? Well, the app is promoted as the "best way to search," and it is supposed to improve your web search experience. It also says that the extension "lets you browse the web and get easy access to search, images, videos and news." However, UpdateSearch doesn't have its own individual search engine. It makes use of the Yahoo! Search engine, and so it is highly doubtful whether you need a separate app to redirect to an already established search provider. It's actually better to get rid of all the mediators if you can simply access the final product yourself.
Luckily, it is not challenging to remove UpdateSearch at all. All you have to do is delete the extension through Chrome's extension menu. You can also reset your browser settings to get rid of all the data collected by the app. Finally, to wrap it all up, consider investing in a licensed security tool that will help you scan your system in search of other potentially unwanted applications. If you find more unwanted and possible dangerous programs, you can remove them all automatically with the security tool of your choice. Do all you can to make your computer safe and clean again.
How to Delete UpdateSearch
Launch Chrome.
Press Alt+F and click Settings.
Click Advanced at the bottom of the page.
Scroll down and press Restore settings to their original defaults.
Click Reset settings on the confirmation box.
In non-techie terms:
UpdateSearch is a browser extension that is supposed to provide you with a better web search experience. However the app only reuses the well-known resources to provide you with that service. If you didn't want to have this application, it's best to remove it right now. It's really easy to terminate UpdateSearch so do not wait any longer. After manual removal, be sure to acquire a powerful security tool that will help you deal with other similar issues in the future.