Do you know what Unknown Security Breach Popup is?
If you have encountered a Unknown Security Breach Popup while surfing the web, it could indicate several things. Unfortunately, none of them can be considered favorable. It might signify the fact that a dubious program is up and running on your PC; thus, we highly advise you to check your operating system for any suspicious software. It could also mean that you have encountered a questionable pop-up or advert that lead you to this fake alert. In any case, you must take action to refrain this devious warning message as it could lead you to actual virtual security problems. Make sure to read the rest of this article to find out more about the potential dangers of coming across this devious alert. Additionally, we provide a few virtual security tips to help you keep your PC safe along with a generic removal guide that will help you delete a program related to Unknown Security Breach Popup.
It is important to note the fact that seeing Unknown Security Breach Popup each time you open your web browser, is an indication that a devious or even malicious program is responsible for that. Therefore, it is important to analyze your operating system for questionable software thoroughly. Otherwise, users usually come across this fake alert via a redirection. This might happen because you clicked on a pop-up that hosts a link leading to this error message. The alert itself is carefully designed by scammers. It uses design features such as color schemes and logos that closely resemble ones of a legitimate Microsoft error message. This is a clever scare-technique used to intimidate unsuspecting Internet users. The message itself informs the user that there is an unknown security breach. You are also urged not to restart your computer since that could cause damage to data stored on your hard drive. To resolve the problem, you need to call a toll-free number for further assistance. To an untrained eyed this might seem quite scary. Fortunately, our research team is not fooled that easily. What usually gives scammers that craft fake alerts away is the fact that they ask to make a direct call. A legitimate Microsoft errors message never provides or asks to contact them via a specific phone number. Under no circumstances get in-touch with the scammers as they could try to extort money or even your credit card data; that could obviously have disastrous outcomes. Thus, we urge you to either remove a program related to Unknown Security Breach Popup or close the tab with this fake warning within your browser.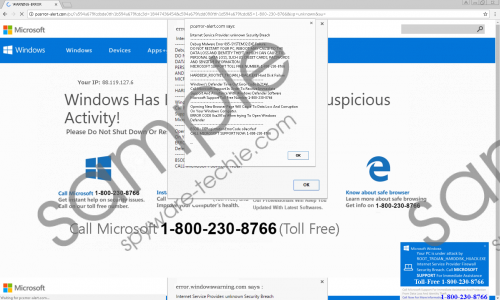 Unknown Security Breach Popup screenshot
Scroll down for full removal instructions
It is important to take preventative measures to keep your computer safe and secure. In a lot of cases, users are simply careless while surfing the web. Such recklessness often leads to exposure of the operating system to devious and even potentially malicious web content. That is why it is crucial to practice safe browsing habits. Make sure to refrain from all questionable websites at all times as they tend to host pop-ups and ads embedded with redirect links, which might lead you to Unknown Security Breach Popup or even web pages that provide malicious software. You should also stay away from all unauthorized-third-party download website. Such web pages are closely associated with bundled installers, which are regularly used by malware developers to spread their intrusive applications. Furthermore, be sure to always learn as much as possible about any program that you want to have active on your personal computer because cyber crooks often use manipulative marketing technique to trick users into downloading a program without understanding how it works. Finally, a security-conscious user must have a professional antimalware tool. Such a tool is paramount due to its ability to terminate potentially unwanted and malicious programs automatically.
It is important to investigate your PC for anything linked to Unknown Security Breach Popup and remove if anything is found. Below, you will find a detailed removal guide that will help you get rid of a devious application quickly and easily. It is important to highlight the fact that you need to check your PC for any traces of a program linked to Unknown Security Breach Popup after you are done with the manual removal since they could act deviously. For instances, you could be seeing the fake alert upon each start of an online session due to just a few leftovers. Make sure not to rush the initial removal procedure that way you will minimize the risk of an incomplete removal.
How to remove a program associated with Unknown Security Breach Popup
Google Chrome
Start your web browser.
Click the Chrome Menu button and select Settings.
Scroll down and click Show advanced settings.
Scroll down and select Reset settings.
Click the Reset option to confirm your choice.
Mozilla Firefox
Launch your web browser.
Select the Menu button and click the question mark icon at the bottom.
Select Troubleshooting Information.
Click Refresh Firefox.
Click Refresh Firefox to confirm your choice.
Internet Explorer
Open your web browser.
Click the Menu button and select Internet Options.
Select the Advanced tab and click Reset.
Check Delete personal settings and then click the Reset button.
Click Close.
In non-techie terms:
Malware experts at Spyware-Techie.com are well aware of the fact that some users might find manual removal a bit too complicated. If you happen to be one of those users, do not worry. Below we provide an alternative removal guide. Follow these instructions and you will be able to delete a program related to Unknown Security Breach Popup automatically.