Do you know what Unfriend Watch are?
Unfriend Watch is promotional offers that can be injected into the sites you visit. These offers do not just show up out of nowhere, and you actually need to install a program – in this case it is Unfriend Watch – that will inject these ads after contacting remote adware servers. After researching this program in our internal lab, it became clear that this program usually travels bundled with other programs. Unfortunately, this is bad news because this means that you might have to delete other unreliable programs as well. We cannot advise you about how to delete unreliable third-party programs unless you identify them for us (start a discussion below), but we can help you remove Unfriend Watch.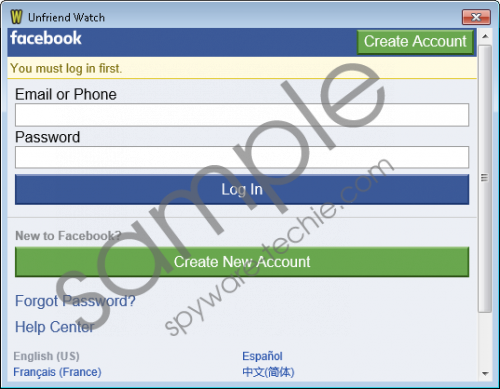 Unfriend Watch screenshot
Scroll down for full removal instructions
If you have downloaded Unfriend Watch bundled with third-party programs, you might be unaware that unfriendwatch.com exists. Besides the alluring information suggesting that this ad-supported program can show you who has removed you from their friends' lists on Facebook.com, this site provides links to Privacy Policy and EULA documents. These are the documents that expose users to a lot of boring information in small print, but going through these documents is imperative. If you do not, you might remain oblivious to the fact that Unfriend Watch are based on the information collected about your browsing activity or that this adware can record personal information. Of course, you should realize that this program stores personal information because it actually requires your Facebook login details. Most users are not comfortable with this, which leads them to deleting Unfriend Watch.
Even though we recommend removing Unfriend Watch, it is just as important that you remove Unfriend Watch. If you terminate a process called "UnfriendWatch.exe*32", these ads will not show up again, but this is only a temporary solution. Are you confused as to why you should get rid of these ads? Well, they are highly unpredictable, and, since the parties representing them are unknown, you could easily become a victim of virtual scams. If you decide to interact with Unfriend Watch, do so at your own risk, but remember that any of the offers could be misleading, which is why you need to be extra cautious.
If you think that Unfriend Watch is unreliable, you can follow the instructions below to remove the ad-supported program injecting them. If you are not allowed to uninstall this program, launch the Task Manager and terminate the process called "UnfriendWatch.exe*32" first. If you are dealing with more than one unreliable program, we suggest you forget about manual removal altogether. Instead, install an authentic security tool to have all threats deleted automatically and your operating system protected.
Remove Unfriend Watch Ads
Delete from Windows 8/Windows 8.1:
Launch RUN (Win+R) and enter Control Panel.
Under Programs click Uninstall a program.
Right-click UnfriendWatch and select Uninstall.
Delete from Windows Vista/Windows 7
Open the Start menu and click Control Panel.
Under Programs click Uninstall a program.
Right-click the program you want to remove and click Uninstall.
Delete from Windows XP
Open the Start menu and click Control Panel.
Double-click Add or Remove Programs and find the undesirable app.
Select and Remove this app.
In non-techie terms:
Even if Unfriend Watch seems authentic and reliable, you have to be careful as they are unpredictable. For all you know, these ads could expose you to virtual scams, and this is not what you want. Use our manual removal guide to delete Unfriend Watch from your PC and install a legitimate security tool to get rid of the remaining threats and to ensure that your virtual security is protected at all times.