Do you know what Un-stop Adware is?
According to our research team, Un-stop Adware is a potential threat. This threat has many different names, and we can count at least 50 of them. Some include Unstop, Non-block, No-blok, Webaccesses, None-stops, and Unstopweb. Furthermore, different website suffixes could be used as well. For example, the adware we are discussing in this report could be controlled via Un-stop.com, Un-stop.net, and Un-stop.org. This adware uses proxy servers to display pop-ups, and, unfortunately, they are likely to be malicious. At the time of research, this adware was mainly targeted at those users who are living in the United States, but that does not mean that it could not spread elsewhere. If you wish to learn more about this threat, you can continue reading. Besides introducing you to the information about this malware, we have also added the instructions that will help you remove Un-stop Adware.
The malicious Un-stop Adware changes proxy settings to ensure that pop-ups are shown to you at any point. According to our research, the threat connects to an adware server (e.g., ssl4anyone5.com, weevah2.top, unique2lazy.com, newpoptab.com, and many others) to show these pop-ups. Of course, the advertisers and schemers using these adware servers are unlikely to be trustworthy. On the contrary, they are likely to use these servers only because their advertisements and offers are likely to be very misleading. If Un-stop Adware has slithered into your operating system, it is most likely that you have already been introduced to random banner ads, pop-ups, and interstitial promotion. Your search results might have been modified as well to introduce you to ads. Needless to say, this adware is pretty stealthy, and you might not realize that it is active right away. All in all, if you start seeing more ads than usual, you should scan your PC immediately. If a legitimate malware scanner discovers threats, you must remove them ASAP.
There is a great chance that the malicious Un-stop Adware can spy on you to record information that could be used to target you with more personalized offers. Using this, schemers and unreliable advertisers could trick you into interacting with unreliable and, potentially, malicious links. In the worst case scenario, you could be tricked into disclosing private information or maybe even downloading malicious infections. If this has happened already, we recommend taking good care of your virtual identity, and, of course, deleting the malware that is active. Malware is responsible for activating Un-stop Adware as well, and so it is utmost important that you inspect your operating system, and we suggest doing that with the help of a legitimate malware scanner. Remember that infections can be concealed, and identifying them can be difficult.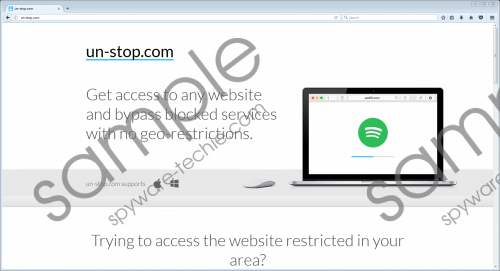 Un-stop Adware screenshot
Scroll down for full removal instructions
It is hard to say which infections are active on your PC along with Un-stop Adware, but we can assure you that they exist. Once you employ a malware scanner and get a report with the names of the threats active, we suggest entering these names into the search box at the top to find Spyware-Techie.com guides. If you cannot find them, request them via the comments section. If you cannot clear your operating system from malware manually, we suggest employing automated anti-malware software. You also need to follow the instructions below to reset Internet Explorer settings. By doing this, you will be fixing proxy modifications.
Remove Un-stop Adware
Launch Internet Explorer.
Simultaneously tap Alt+T to open the Tools menu and select Internet options.
Click the Advanced tab and then click the Reset button.
Select Delete personal settings, click Reset again, and then click OK.
In non-techie terms:
Un-stop Adware is a threat, and you need to delete it immediately. This malware is installed without your permission, and so you are unlikely to notice it right away. In most cases, users discover this invader only when they scan their operating systems using legitimate malware scanners. You are likely to employ these as soon as you discover suspicious advertisements popping up everywhere. That is a good indication that adware has invaded your operating system. It is crucial that you are able to identify the threats that are active if you are thinking about manual removal. If you cannot identify and delete Un-stop Adware-related threats, we suggest employing anti-malware software immediately.