Do you know what Ultra Tab is?
If you want a stylish web browsing experience, Ultra Tab might seem like a good tool for that. Yet, if you are reading this description, you're probably looking for a way to get rid of this extension. Fear not, it's really easy to remove Ultra Tab from your browser, and there's no need to panic. The truth is that this extension is categorized as a potentially unwanted program, and some users have to deal with the app because they just didn't plan to have it in the first place. Scroll down to the bottom of this description for the manual removal instructions or use an automated removal tool.
The thing with these applications is that they tend to have multiple distribution sources. As far as Ultra Tab is concerned, the extension has an official homepage, and it can also be found on the Chrome Web Store. The official website can be visited via ultra-tab.com. The page says that with this extension, you can "take your browser up a notch." It also says that this application "gives you stylish browsing without compromising on your search experience." From there, you can add Ultra Tab to your browser directly from the official homepage. Additional information states the following:
Intuitive quick links to your favorite pages and social media sites are at your fingertips because we know what your first order of business often is.
It doesn't look like this application is very popular because, apparently, there are less than 100 active users using it right now. However, the chances are that the number of users will grow if Ultra Tab employs various distribution methods.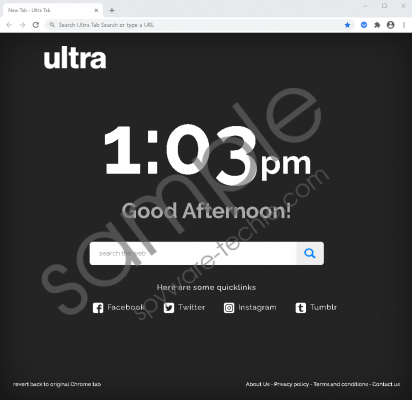 Ultra Tab screenshot
Scroll down for full removal instructions
One of the most common ways for potentially unwanted programs to reach their destinations is to employ third-party installers or come through pop-ups and redirects that users can encounter on various websites. This just proves that users have to be careful and responsible about their browsing habits. If you download new programs, please make sure that they come from official websites. If you visit pages that display a lot of pop-ups ads, close the ads without clicking anyone on them because that might automatically add unnecessary apps to your browser.
If you don't remember visiting the official website for Ultra Tab, you must have encountered the app through a third-party distributor. Perhaps you were on a video streaming page that launched a redirected window, and in turn, it offered you Ultra Tab.
The problem with adding Ultra Tab accidentally is that you still agree to all the modifications this extension performs on your browser. According to the list of permissions indicated in the extension's description, the moment you add Ultra Tab to your browser, you allow this application to:
Replace the page you see when opening a new tab

Change your search settings to: ultra-search1.com
Thus, even though it might seem that your browser was taken over by a browser hijacker, that's not really the case because Ultra Tab does ask for your permission to perform those modifications. On the other hand, the functionality of the app can be questioned because the search engine it brings is none the other but Yahoo! Search. So, it might seem that the overall use of this extension is redundant because what's the point of using a third-party app to lead you to a search engine when you can simply add it to your browser directly.
On top of that, Ultra Tab might inadvertently expose you to harmful content, as the extension cannot control what third parties promote through its advertising space. Thus, it's up to you to protect your personal information and your system from malicious exploitation.
The best way to protect yourself is by removing Ultra Tab from your browser right now. As you can see, we recommend resetting your browser settings to default, as that also deletes all the tracking cookies and other unwanted applications that could have been added to your browser. While you're at it, you could also scan your system with the SpyHunter free scanner to see if you have various suspicious programs on-board. At the end of the day, you should be sure that you don't have unwanted intruders on your computer.
How to Remove Ultra Tab
Open the Chrome browser.
Press Alt+F and click Settings.
At the bottom of the page, click Advanced.
Scroll down again and click Restore settings to original defaults.
Press Reset settings to complete.
In non-techie terms:
Ultra Tab doesn't look dangerous at all, and the truth is that this application is not a malicious infection. However, there is no need to tolerate it if you didn't want to have it. It is really easy to remove Ultra Tab. Or you can use a reliable security application that will delete every single unwanted program from your system automatically. It's up to you, which software removal method you want to apply. Just be sure that at the end of the day your system is safe and sound.