Do you know what Ultimate Searcher is?
Our research team says that Ultimate Searcher is a potentially unwanted program. It means that the application is not malicious, but it may exhibit particular features and behavioral patterns that users may not like that much. What's more, the application could eventually get exploited by malevolent third parties, and that could lead to a malware infection. In order to avoid that, you obviously have to remove Ultimate Searcher from your system. Even if the program might seem useful, you should not tolerate it on your computer, especially if you care about your system's security.
There might be more ways to categorize this application, too. While our team says that Ultimate Searcher is a potentially unwanted program, you might find the program under the "extension" category on other sites. To tell you the truth, the program does function as a browser extension and the fact is that it is compatible only with the Chrome browser. Hence, if you use Edge or Firefox, Ultimate Searcher should not bother you. Nevertheless, it does not mean that you can breathe a sigh of relief. Just because this extension is not compatible with your browser, it does not mean it cannot enter your computer.
Of course, if you add Ultimate Searcher to your browser via the Chrome Web Store, that is another story. However, more often than not, the application employs another method of distribution, when users add such extensions to their browsers without even realizing it. When does that happen? It happens when programs are distributed in software packages. For instance, you might have been looking for some video codec or a file format converter and you found the program on a file-sharing site. You downloaded the program and you installed it on your PC. What you did not consider was the fact this program came in a third-party installer, and that third-party installer had other apps bundled inside.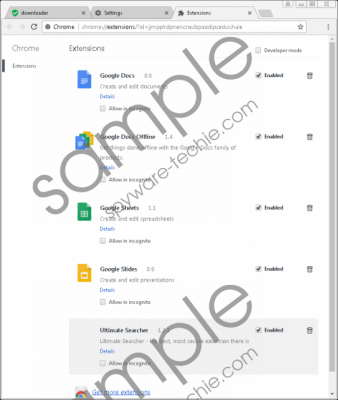 Ultimate Searcher screenshot
Scroll down for full removal instructions
Is it possible to avoid installing Ultimate Searcher and other unnecessary apps? Of course. If you avoid downloading programs from unfamiliar websites, it should decrease the chances of freeware installation. Also, reading the steps in installation wizard helps, too. Quite often, there are options that allow you to deselect the unnecessary apps and features, so if you do not skip these steps, you should be able to avoid installing unwanted programs. On the other hand, even if Ultimate Searcher entered your computer, it is not the end of the world.
As mentioned, this extension is not a malicious infection, all the more so that it has an official website via yhit.press. It also comes with a page on the Chrome Web Store, so you can read more on the application if you want to. The question is, however, whether the extension is really as useful as it claims to be. The extension can make your browser go into the full screen mode (like it does if you press the F11 key). It also exhibits other annoying behavioral patterns. For instance, it could redirect your search queries via a modified Yahoo! Search engine.
It means that Ultimate Searcher can also collect information on your web browsing habits. Most of the browser extensions do that, but only a very small group of them should be trusted with that. Other freeware applications could easily leak the information they collect to unreliable third parties. And this is the main reason you should be careful about such applications. They might unwittingly expose you to potential security threats that could eventually result in a malware infection. While this kind of turn of events is very unlikely, you should not take your chances.
It is really easy to remove Ultimate Searcher from your computer. You just need to delete the extension from your browser, and that should be it. Nevertheless, considering that the program could have arrived at your PC in a software bundle, you should also scan your system with the SpyHunter free scanner.
A full system scan will help you determine whether your PC is safe. If not, you will be able to delete the unwanted and potentially harmful applications automatically. For any other questions, please feel free to leave us a comment below.
How to Remove Ultimate Searcher
Open your Chrome browser.
Press Alt+F and click More tools.
Open Extensions and delete Ultimate Searcher.
Scan your PC with the security tool.
In non-techie terms:
Users often mistake potential computer security threats for random applications that can do no harm. Unfortunately, programs like Ultimate Searcher can eventually expose you to corrupted content that could lead to a malware infection. Before any of that happens, you need to delete Ultimate Searcher from your browser and then make sure that your system is safeguarded against other unwanted programs that might enter your PC when you expect it the least.