Do you know what Ultimate Popup Killer is?
Ultimate Popup Killer might look like a useful application if you are looking for a way to deal with annoying pop-up advertisements you may encounter while visiting various web pages. However, our researchers recently determined that together with it the user could also receive a browser hijacker called Searchby.net. Since the program's creators claim the product is not bundled with additional software, the fact it might travel with the mentioned browser hijacker just does not make it seem trustworthy. In fact, because of the mentioned behavior, our researchers classified Ultimate Popup Killer as a potentially unwanted program. Naturally, we do not recommend keeping the suspicious tool on the computer, and accordingly, we advise deleting it with the removal guide added below the article or a reputable antimalware tool of your choice.
To begin with, the software is supposed to work only on Internet Explorer. After being installed, it allows Searchby.net hijack user's browser by replacing default homepage. Ultimate Popup Killer can be downloaded from its website called ultimatepopupkiller.com, where you can find descriptions and other information about it as well.
First of all the web page puts a lot of emphasis on the fact the tool is free of charge. More than that the potentially unwanted program's creators claim it is the best pop-up killer there is as according to them "there are SERIOUS PROBLEMS with" many similar applications. It also accuses other tools of being extremely expensive. It is difficult to say what specific tools they are referring to, but so far the ad blocking applications we have encountered were all free of charge. Thus, our researchers suspect the provided list describing similar software issues could be quite exaggerated to make Ultimate Popup Killer look better.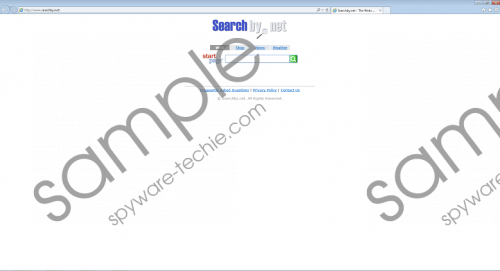 Ultimate Popup Killer screenshot
Scroll down for full removal instructions
Furthermore, there was one other sentence on the potentially unwanted program's website that raised our suspicion. To be more precise, even though it says you might receive Searchby.net together with the application, one of the last sentences on the software's homepage says "there is no additional software bundled with it." It makes us wonder whether the other statements, such as "The Ultimate Popup Killer contains no spyware" or "does not track what you do" are true. Even if Ultimate Popup Killer does not track users itself, there are no guarantees the mentioned search engine will not act this way either. Therefore, if you are planning on surfing the Internet with Searchby.net, we would recommend learning more about what data it might collect and decide for yourself if using it is safer than browsing with reputable search engines like Google, Bing, etc.
All things considered, Ultimate Popup Killer looks quite suspicious because of its exaggerated description and unreliable since it may travel with a browser hijacker. It seems to us there are safer and more trustworthy ad blockers to choose from, so we would not recommend taking any chances with this potentially unwanted program or the hijacker it may place on your Internet Explorer. If you have made up your mind to delete this questionable tool, you could do so manually while completing the steps provided by the removal guide located below the article. Another option is to install an antimalware tool, do a system check-up, and get rid of the program along with other possible detections.
Erase Ultimate Popup Killer
Press Windows Key+R.
Insert Regedit and click Enter.
Navigate to the given locations:
HKLM\SOFTWARE\Wow6432Node\Microsoft\Windows\CurrentVersion\Uninstall
HKLM\SOFTWARE\Microsoft\Windows\CurrentVersion\Uninstall
HKCU\Software
HKCU\Wow6432Node\Software
Find keys called Ultimate Popup Killer, Ultimate Popup Killer v7.3_is1, or similarly; right-click them one by one and press Delete.
Go to HKCU\Software\Microsoft\Internet Explorer\Main
Search for value name Start Page.
Right-click Start Page and select Modify.
Replace value data (http://searchby.net), for example, with google.com.
Click OK.
Exit Registry Editor.
Press Windows Key+E.
Search for the provided directories separately:
%ALLUSERSPROFILE%\Application Data\Microsoft\Windows\Start Menu\Programs\Startup
%ALLUSERSPROFILE%\Microsoft\Windows\Start Menu\Programs\Startup
%USERPROFILE%\Microsoft\Windows\Start Menu\Programs\Startup
%APPDATA%\Microsoft\Windows\Start Menu\Programs\Startup
%ALLUSERSPROFILE%\Start Menu\Programs\Startup
%PROGRAMFILES(x86)%
%PROGRAMFILES%
Locate folders titled Ultimate Popup Killer, right-click them separately and select Delete.
Close File Explorer.
Empty Recycle Bin.
In non-techie terms:
Ultimate Popup Killer is not a malicious application, but it is classified as a potentially unwanted program, which means it still cannot be trusted. The software works as an ad blocker for Internet Explorer browser and according to its description is not bundled with any other software, but our researchers noticed that a specific browser hijacker might enter the system during its installation. Consequently, we advise users to look for more reliable alternatives to the potentially unwanted program. If you choose to erase it, we should warn you the process could be quite long, so it might be easier if you follow the removal guide placed above or install a reputable antimalware tool and perform a system scan.