Do you know what TZip is?
TZip is an untrustworthy program. Even though this program offers services you can apply and use, our research team has found that it could download and install browser hijackers without your permission. Does that sound to you like normal activity? Of course this is not normal because only malicious and unreliable programs can download software without your permission. We do not identify TZip itself as a malicious program, but it is obvious that it requires removal. Our research team has identified this suspicious tool as a potentially unwanted program, and this report will help you make a decision regarding its fate. Whether or not you decide to remove TZip, you will know what risks you might encounter if you do not.
Although users can download the supposedly amazing TZip from tzipfree.com, it was found that this PUP – which is short for "potentially unwanted program" – is distributed by third-party installers as well. In case you find this PUP bundled with unfamiliar programs, it is your responsibility to research them. If you download software carelessly, you might let in malicious programs, and, if that happens, you will have to spend your precious time deleting them. Even if you do not download unreliable programs yourself, TZip could do that for you. Istartsurf.com is one of the many hijackers that TZip could install onto your browsers without your permission. The developer of this program, Navigation network co., ltd., has also developed Allinchrome.com, Seekmix.com, and similar search tools. Even though we do not identify them as malicious hijackers, you might have to remove them if you download TZip.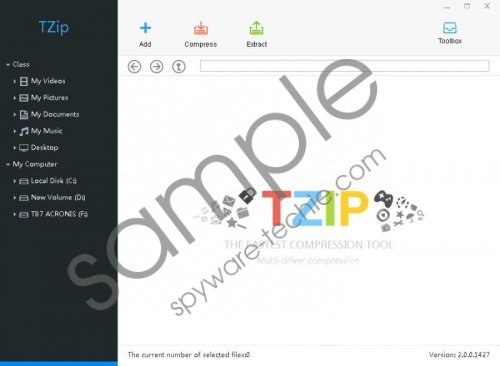 TZip screenshot
Scroll down for full removal instructions
As disclosed via the Privacy Policy at tzipfree.com/privacy-policy.html?lg=enm, "Tzip may share aggregated demographic information about users with third party advertising and content companies." Although it is unlikely that you will encounter unreliable pop-ups or other kinds of advertising, you need to be aware that information about your activity could be shared with unfamiliar parties. We believe it might be an important reason to delete TZip as well. All in all, there are more reliable tools offering the services that TZip offers its users, which is why we believe you should delete this PUP without any hesitation.
Have you downloaded TZip hoping that it will provide impeccable services? The service called "ntsvc.exe" could install browser hijackers, which is the main reason we recommend removing TZip from your operating system. Luckily, this potentially unwanted program will not take a lot of time or effort to remove. We are sure that you will have this PUP deleted successfully if you follow our instructions below. If you encounter malicious programs installed by or with this PUP, use a malware remover to get rid of them automatically.
Remove TZip from Windows
Remove from Windows 10
Move to the Taskbar and type Control Panel into the search box.
Open Control Panel and move to Uninstall a program.
Identify the program you want to delete, select it, and click Uninstall.
Remove from Windows 8 or Windows 8.1
Simultaneously tap Win+R to launch RUN.
Enter Control Panel to open a menu and click Uninstall a program.
Right-click the application you want to delete and click Uninstall.
Remove from Windows Vista or Windows 7
Click the Windows logo on the left of the Taskbar.
Open the Control Panel menu and move to Uninstall a program.
Right-click the program you want to delete and select Uninstall.
Remove from Windows XP
Click Start on the Taskbar and select Control Panel.
Double-click the button Add or Remove Programs.
Find the unwanted program, click it, and select Remove.
In non-techie terms:
The supposedly beneficial TZip is a potentially unwanted program whose processes could download unwanted software. Due to this reason, you should consider removing TZip from your operating system. If you have made the decision already, you can use the simple instructions above to delete this PUP from your Windows operating system. It is unfortunate that this program often comes packaged with other suspicious programs. If they have entered your operating system, make sure to delete them as well. Automated malware detection and removal software are most efficient when it comes to this.