Do you know what TypingFanatic Toolbar is?
An ability to type fast is an important skill required by many employers, and you think you would improve it with the help of the TypingFanatic Toolbar. Probably, you are eager to take the offered typing tests or play typing games, or even to take online typing lessons. However, do you know that this program came from the Mindspark family? Believe us, this fact alone is enough for you to reconsider the application.
First of all, TypingFanatic Toolbar acts like a browser hijacker. It promotes the Ask.com search engine. The latter sets itself not only as your default search engine but also as your homepage. Yes, it was possible to decline Ask.com during the installation process of TypingFanatic Toolbar. However, the majority of users skip that possibility, most likely by not being cautious enough. Ask.com is not considered a reliable search engine, and you will encounter sponsored links on the top of your search results.
Secondly, by using TypingFanatic Toolbar you may see various advertisements. Those could include links to the websites owned by third parties. Imagine the worst: You get redirected to a website containing a malicious code, and your computer gets infected with a dangerous virus. TypingFanatic Toolbar has a perfect excuse. The Terms of Service (TOS) of Mindspark state that "THE ENTIRE RISK ARISING OUT OF USE OR PERFORMANCE OF AN MS SERVICES REMAINS SOLELY WITH YOU." There is always a slight possibility that you may click on any ad accidentally, so it is better to remove TypingFanatic Toolbar and eliminate risks associated with this toolbar.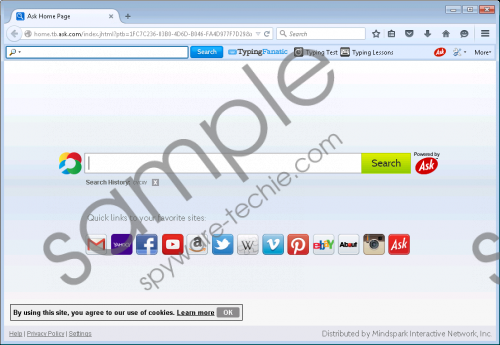 TypingFanatic Toolbar screenshot
Scroll down for full removal instructions
And last but not least, our research team has found that TypingFanatic Toolbar is not only downloaded from its official site. The toolbar can come bundled with various programs you have received from free software download websites. The same could be said about other Mindspark applications, including DownSpeedTest Toolbar, SMSFromBrowser Toolbar, or UnzipApp Toolbar. Even the TOS of Mindspark says that "The MS Services may integrate, be integrated into, bundled, or be provided in connection with third-party services." Would you trust someone who is invited to your house and brings together a couple of his friends without notifying you? Even if that person will cause no harm, it is unlikely that he will keep his spot on your close friends list. So, you should consider revising the list of your programs as well.
We think that it is the right time to process towards the removal of TypingFanatic Toolbar. You will see that it is not the job anyone should be afraid of. Please have in mind that by uninstalling TypingFanatic Toolbar manually, you will clean only the Internet Explorer browser from the unwanted extension. It has to be additionally removed from Google Chrome and Mozilla Firefox. If you do not want to trust your searches to Ask.com, we have prepared a detailed guide on how to restore you browser settings.
How to remove TypingFanatic Toolbar
Windows 7 or Windows Vista
Click the Windows logo on the Taskbar.
Open Control Panel.
Go to Uninstall a program and remove TypingFanatic Toolbar.
Windows XP
Access the Start menu.
Launch Control Panel.
Open Add or Remove Programs.
Delete TypingFanatic Toolbar.
Windows 8 or Windows 8.1
Simultaneously tap the Windows key + I.
Click on Control Panel.
Select Uninstall a program and eliminate TypingFanatic Toolbar.
How to restore browser settings
Internet Explorer
Simultaneously press Alt+T to open Tools.
Go to Internet Options.
Change your homepage and click OK.
Launch Tools again and choose Manage Add-ons.
Go to Search Providers.
Change your default search engine and remove the unwanted.
Google Chrome
Simultaneously press Alt+F.
Go to Settings.
Select Manage search engines under Search.
Delete the unwanted engine and click Done.
Select Show Home button under Appearances.
Click on Change and replace your homepage.
Click OK.
Go to Extensions.
Locate TypingFanatic and click the trash bin near it.
Select Remove.
Mozilla Firefox
Simultaneously press Ctrl+Shift+A.
Go to Extensions and remove TypingFanatic.
Click OK.
Simultaneously press Alt+T and select Options.
Restore your default homepage.
Click on Search.
Remove the unwanted search engine.
Restart the browser.
In non-techie terms:
TypingFanatic Toolbar promises to improve your typing accuracy and speed. However, we advise that you take other ways to increase these skills. TypingFanatic Toolbar is just another product by Mindspark, and the latter company is known as a developer of suspicious applications. This toolbar also irritates you by coming together with Ask.com search engine. Consider the purchase of reliable antimalware software and delete all the trespassers on your computer using our instructions.