Do you know what Tweakerbit Antimalware is?
Tweakerbit Antimalware is introduced to Windows users as a tool that can provide them with a "strong and all-round protection" against malicious threats. It is claimed that the program can remove harmful malware in a fast and reliable manner. Unfortunately, that is not the kind of activity our research team has observed. When this program is active on the operating system, it performs a system scan that does not present truthful results. Instead of finding malicious components, it introduces users to PUPs (potentially unwanted programs) that, allegedly, are harmful. In fact, the anti-malware tool itself is classified as a PUP, and that is because the "threats" it detects are no threats at all. In fact, our research has revealed that the unreliable program lists harmless applications as PUPs. Needless to say, it is strongly advised that all users delete Tweakerbit Antimalware. The instructions below reveal how to do that manually, but before you get to that part, we recommend reading the full report.
How did you install Tweakerbit Antimalware onto your operating system? If you have downloaded it via a software bundle representing a bunch of questionable programs at the same time, it is recommended that you scan your operating system right away because you want to make sure that you have not let in any other threats that require removal. You can also download the PUP from tweakerbit.com, and you could be introduced to this source via pop-ups and advertisements promoted via certain websites. Of course, you should not install the suspicious program from anywhere, and if you choose to let it in, you need to research it thoroughly. You could start with the Privacy Policy, which informs that promotional offers could be sent to all users who choose to disclose the email address. You also need to look at the reviews provided by malware researchers, which is exactly what you are doing right now. If we can tell you one thing, it is that installing Tweakerbit Antimalware is not recommended under any circumstances.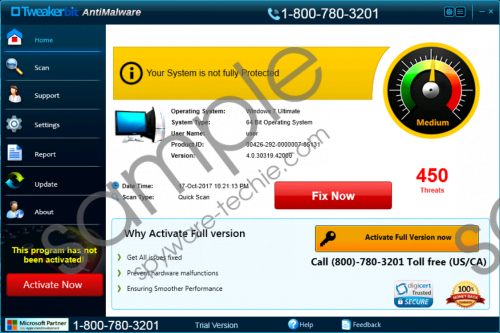 Tweakerbit Antimalware screenshot
Scroll down for full removal instructions
As discussed already, Tweakerbit Antimalware does not present realistic results. It was discovered that all files in %TEMP% and %WINDIR%\Temp directories are automatically identified as PUPs by the scanner. Furthermore, legitimate applications (e.g., web browsers) are classified as PUPs also. Unfortunately, more gullible users are unlikely to realize this once the scanner reports come in. That is exactly what the creator of the malware wants. If you are tricked into thinking that you need to delete undesirable pieces of software, you are likely to purchase the "Activated" version of Tweakerbit Antimalware or call the helpline number (1-800-780-3201). It is not recommended that you do any of this. If you purchase the tool, you will waste $29.99, and if you call the number, you might be pushed into disclosing information about yourself and, ultimately, paying for the allegedly beneficial tool. Whether you pay for the activated version or keep the tool un-activated, you will be flooded with misleading security alerts, and that is another reason to delete the PUP immediately.
Have you already tried removing Tweakerbit Antimalware? This PUP is built in a way that components are left behind when you uninstall it, which is another reason why it is classified as a potentially unwanted program. All in all, eliminating this unwanted piece of software manually is possible. All you have to do is follow the instructions below, and if questions come up, add them to the comments section. Another option you have to consider is installing anti-malware software, and you should definitely consider doing that because only this software can guarantee protection in the future. On top of that, if any other threats exist, they will be automatically deleted along with the PUP.
Delete Tweakerbit Antimalware
Windows 10/Windows 8/Windows 7/Windows Vista
Tap Win+R keys on the keyboard to launch RUN.
Enter control panel into the dialog box and click OK.
In the opened menu navigate to the Uninstall a program menu.
Uninstall undesirable application and then delete the leftovers.
Windows XP
Click the Start menu icon on the left of the Taskbar.
Open the Control Panel menu to find more tools.
Double-click the Add or Remove Programs icon.
Remove undesirable application and then erase the leftovers.
Leftovers
Tap Win+R keys to launch the RUN dialog box.
Enter regedit.exe and click OK to launch Registry Editor.
In the pane on the left navigate to HKLM\SOFTWARE\ (or HKLM\SOFTWARE\WOW6432Node).
Right-click and Delete the key named Tweakerbit.
Navigate to HKCU\Software\Microsoft\Windows\CurrentVersion\Run.
Right-click and Delete the key named Tweakerbit Antimalware.
Navigate to HKLM\SOFTWARE\Microsoft\Tracing\.
Right-click and Delete these keys:

tweakerbit-antimalware_RASAPI32
tweakerbit-antimalware_RASMANCS

Empty Recycle Bin to eliminate the potentially unwanted program completely.
Install a legitimate and trustworthy malware scanner to perform a full system scan.
In non-techie terms:
If you have been tricked into thinking that Tweakerbit Antimalware is a beneficial security tool, you might have installed it and paid for its services already. It was found, however, that this is just a potentially unwanted program that is incapable of finding real threats, and, instead, it lists harmless apps as PUPs that allegedly require removal. While this software is installed, it will continue showing misleading security alerts and producing unreliable scan reports. It is strongly recommended that users of this PUP delete it immediately. You can remove Tweakerbit Antimalware using the instructions above, or you can use an anti-malware program. In either case, do not forget that other PUPs or threats could be active.