Do you know what TVHero is?
TVHero by APN, LLC is an extension that Google Chrome users should pay attention to. If you are not careful, you could accidentally download this PUP (potentially unwanted program) along with third-party software. Although users can download this add-on from tvhero.thewhizmarketing.com or the Chrome web store at chrome.google.com/webstore/detail/tv-hero/lcfhngdkgapmemkhlmmklekphffaplin, our research team warns that it also travels with the help of misleading pop-ups. If you were exposed to the PUP via a pop-up, how did it show up? Can you link it to a specific website or has the same pop-up appeared on several different websites you have recently visited? In the latter case, you need to consider the presence of unreliable adware (advertising-supported software) that might require removal. Hopefully, the only unwanted program that you need to delete is TVHero.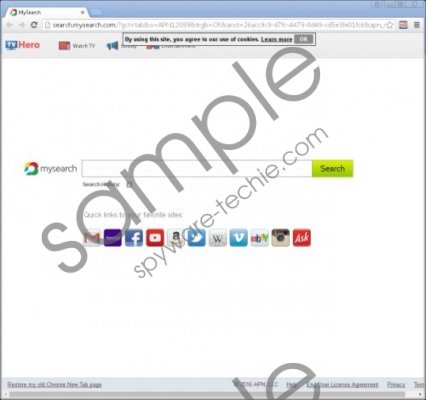 TVHero screenshot
Scroll down for full removal instructions
According to our research, TVHero is very similar to Muzik Fury, Seen On Screen, GameOn, and many other potentially unwanted programs. Notably, these are compatible with Mozilla Firefox as well, and so we do not deny the possibility that the Firefox version of this add-on will show up as well. At the moment, however, it is only compatible with the Chrome browser. Once installed, the PUP might hijack the homepage and the new tab by setting search.mysearch.com to show up upon launch. This search tool provides modified search results that include sponsored links. Needless to say, if you want to see authentic search results instead of ads, you need to remove MySearch. Unfortunately, this search tool is linked to the extension, and you cannot get rid of them separately. In fact, the TVHero toolbar is represented along with the search tool.
This TVHero toolbar provides three different tabs. The first one is called "Watch TV," and it expands a menu listing popular TV shows. If you click on a show you are interested in, a pop-up will show up listing different sources where it can be watched. Our research has revealed that Amazon, Netflix, Vudu, and Youtube links are displayed in all cases. Overall, TVHero does not provide a direct access to the shows you are interested in. The second tab called "Gossip" routes directly to tmz.com, a popular website representing celebrity news. The last tab called "Entertainment" provides you with easy-access links to hollywoodreporter.com, huffingtonpost.com/entertainment/, and edition.cnn.com/entertainment, all of which represent entertainment-related news. Although all third-party links represented via this tool are authentic, we recommend deleting it anyway. This program does not offer beneficial services, but it can showcase unreliable search results, and it might spy on you with the help of HTTP cookies.
You can delete TVHero from the chrome://extensions menu on your Google Chrome browser. You can also erase it from your PC by eliminating the components of this potentially unwanted program. This manual removal method is represented below. You also have the option to download anti-malware software and use it to erase the PUP automatically. This method is beneficial in many different ways as it ensures the clearing of all active threats, as well as the protection of your PC in the future. One thing to keep in mind before installing anti-malware software is that cyber criminals have created a ton of bogus anti-malware tools that might perform fake system scans and take your money without providing you with reliable security services. Of course, if you install trustworthy anti-malware software, you will not need to worry about any kind of malware.
Remove TVHero from PC
Open Explorer (simultaneously tap Win+E keys).
Enter %LOCALAPPDATA%\Google\Chrome\User Data\ (or %UserProfile%\Local Settings\Application Data\Google\Chrome\User Data on Windows XP) into the address bar.
Open the Default folder. If you have multiple Profiles, you might have to open the folder representing your Chrome Profile name).
Delete the lcfhngdkgapmemkhlmmklekphffaplin string in the Preferences and Secure Preferences files (you can open them using Notepad).
Open the Local Storage folder and Delete these files:

chrome-extension_lcfhngdkgapmemkhlmmklekphffaplin_0.localstorage-journal
chrome-extension_lcfhngdkgapmemkhlmmklekphffaplin_0.localstorage

Go back to the Default/Profile folder and then open the Extensions folder.
Delete the folder named lcfhngdkgapmemkhlmmklekphffaplin.
In non-techie terms:
Our research team is convinced that deleting TVHero is a good idea because this potentially unwanted program can introduce you to an unreliable search engine that showcases advertisements. Moreover, it can use tracking cookies to spy on you and disclose information to third parties. After all, this PUP does not actually offer you beneficial services, as its only function is to provide you with easy-access links to popular sites. Although you can remove this PUP manually, we suggest installing anti-malware software that will erase it automatically. We advise using this software because your operating system might have been corrupted by other unreliable programs that also require elimination. On top of that, only reliable anti-malware software can ensure that your operating system is protected against malware in the future.