Do you know what Tv-Plug-In is?
Our malware researchers have recently tested an application called Tv-Plug-In and found that the functions it offers are non-existent. Therefore, they have classified this program as potentially unwanted and recommend that you remove it. This program's main website claims that it will enable you to watch online TV for free, but that is a blatant lie. Also, this program will display irritating commercial advertisements in its Graphical User Interface (GUI.) We find its promoted content suspicious and do not recommend that you click on the links as they might redirect you to shady websites. In this article, we are going to cover how Tv-Plug-In is distributed, how it works, and how you can delete it in its entirety. So without further ado let us begin.
Our researchers have revealed that this application was created and released by a small-time software developer known as Orzilia Ltd. Officially this company is based in Kedar, Israel. However, we cannot confirm or deny this information, but we find it rather odd that a software developer does not have a main website. Therefore, we believe that it is the cover name for another developer.
As far as this program's dissemination methods go, our researchers have found that this application is featured on its main website at Tv-plug-in.com. In addition to this program's installer, this site features bogus promotional claims about how good this program is. Another method used to distribute Tv-Plug-In is third-party software distributing websites. Our researchers have found that currently only one third-party site has agreed to host this programs download. The website that agreed to do this is none other than Software.informer.com, a site that is prone to host download of potentially unwanted programs. Although we did not find any samples, we believe that this application might come bundled with other software. So that covers the origins part of this article. As you can see, this program's dissemination methods are typical for a potentially unwanted program (PUP.)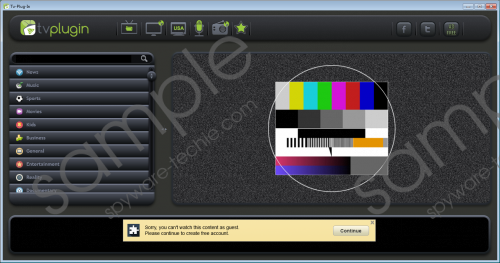 Tv-Plug-In screenshot
Scroll down for full removal instructions
Now let us move on to more important matters regarding this programs functionality. However, there is not much to be said about this aspect because this program's alleged function to enable you to watch online television for free is a fallacy. Even though you can download this program free of charge, you cannot watch TV because you have to create a paid account. We do not know how much it costs because the price is not indicated on the checkout page. However, if you purchase this application, there is no guarantee that you will be able to watch television because there is no limited trial period, so this means that you would be buying a cat in a bag.
Now, if you click the Buy button advertised in its GUI, then you will get redirected to address that requires you to fill in your personal details, such as email address and create a password. If you do that, then you will get redirected again to a website at Dollaplay.com/subscriptions/checkoutaff/m-2-panther. This is a checkout page where you have to pay for Tv-Plug-In using a debit or credit card. It uses the Click2Sell system which should allow you to return the product and get a refund, but we cannot vouch for it. So the purchasing process is a bit suspicious as well since in some cases you might not see the price of this program like we have.
Lastly, we want to mention this application's tendency to display commercial advertisements in its GUI. For the most part, it is set to advertise the link used to purchase it. However, this might not always be the case as it may start promoting other product and content at any time. Moreover, there is no way of knowing whether it will continue to show ads after you buy this program. Most importantly, there is no way to determine whether the websites Tv-Plug-In redirects to are completely safe.
All in all, Tv-Plug-In is a useless program that does not work and is not guaranteed to work after you purchase it for an undefended sum of money. Moreover, because it can display advertisements of unverifiable legitimacy makes his program unreliable. If you want to remove Tv-Plug-In in its entirety, then please follow the instructions included below.
Uninstall this program via Control Panel
Windows 10
Right-click on the Start menu.
Go to Programs and Features.
Find the application.
Right-click on it and click Uninstall.
Windows 8 and 8.1
Open the Charm bar.
Choose Settings and go to Control Panel.
Select Programs and then Programs and Features.
Find the program and right-click on it.
Click Uninstall.
Windows 7 and Vista
Click Start located at the bottom left side of the screen.
Select Control Panel and click Uninstall a program.
Find the undesirable application and click Uninstall.
Windows XP
Open the Start menu and go to Control Panel.
Click Add or Remove Programs.
Find the unwanted program and click the Remove button.
Delete the registry keys
Simultaneously press Win+R keys.
Type regedit and click OK.
Once in Registry Editor find the following keys and delete them.
HKEY_CURRENT_USER\Software\AppDataLow\Software\Tv-Plug-In
HKEY_LOCAL_MACHINE\SOFTWARE\Wow6432Node\Tv-Plug-In
Then, go to HKEY_LOCAL_MACHINE\SOFTWARE\Wow6432Node\Microsoft\Windows\CurrentVersion\Run
Delete the String named Tv-Plug-In (do not delete the entire key because this will damage the OS.)
In non-techie terms:
Tv-Plug-In is a potentially unwanted program that is supposed to allow you to watch online television for free, but fails to deliver on this promise. In truth, this service is paid and chances are it will not work even after you purchase it. Also, this program has the ability to display commercial advertisements and we think that some of them can be unreliable. So Tv-Plug-In is an untrustworthy package of false promises and unwelcome ads. So feel free to remove it.