Do you know what TurboDiagnosis is?
Many users are keen on optimizing their PC for better performance. If you are looking for an application to do that, you must know that a program called TurboDiagnosis cannot be trusted entirely. In quite a few cases, this suspicious optimization tool is promoted as an excellent application that can be used to improve the performance of your PC and at first it might seem like a great tool to have. Unfortunately, during the research our team has discovered that this questionable program functions in a suspicious way to say the least. Besides that, it has been found out that it is distributed in a questionable way as well. For these reasons TurboDiagnosis has been categorized as a potentially unwanted program; and we firmly believe that it should be removed without any hesitation. To achieve this task make sure to use the removal guide that we provide below.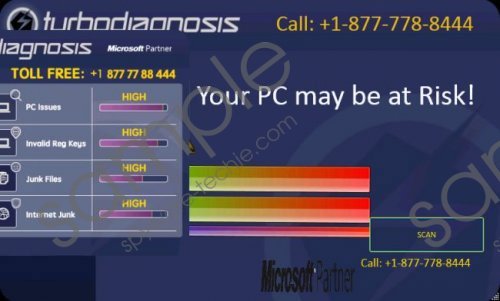 TurboDiagnosis screenshot
Scroll down for full removal instructions
It is important to note that TurboDiagnosis is spread via bundled installers, which are infamous for being the primary source of suspicious software. So if you have noticed this questionable optimization tool active on your PC, we strongly advise you to analyze your PC for other suspicious software. In order to avoid getting your PC in such a way make sure to stay away from third-party download websites as they are widely known to provide software bundles. Additionally our malware researchers firmly advise every security-conscious user to install a licensed antimalware tool because such a tool provides overall system security at all times, meaning that it will make your operating system virtually unbreakable.
As soon as TurboDiagnosis gains access to your operating system an automatic system scan will start. This scan should provide you a list of various errors, which are responsible for the slow performance of your computer. The scan itself is rather quick and looks legitimate. As soon as it is over you will be provided with an extensive list of errors, which need to be fixed to improve your PC's performance. Unfortunately, for such service you are required to purchase a full version of this suspicious program. We advise you not to pay for TurboDiagnosis since its functionality is rather suspicious. The errors list provides some questionable results since numerous temporary files, and various inactive registry entries are included in it. This is probably a scare tactic employed by the vendors of this questionable program used to trick naïve Internet users into purchasing the full version of this program. We strongly recommend using a different optimization tool to make your PC run smoother. Since TurboDiagnosis holds little to none valuable features, we strongly believe that it must be removed without any hesitation.
It should be quite obvious why malware experts at Spwyware-Techie.com strongly advise you to delete this controversial optimization tool. Make sure to remove TurboDiagnosis from your PC by using the removal guide that we provide below. We have crafted a removal guide that is easy to use and should help you delete this suspicious program in no time.
In non-techie terms:
We provide a removal guide that will help you delete this invasive optimization tool in an automatic way. This is so because manual removal is a bit too complicated because it requires manual registry editing, which can only be done by advanced computer users. By using the removal guide below you will be able to remove TurboDiagnosis without encountering any problems in a quickest way possible.