Do you know what TuneJunkies New Tab is?
You might think that TuneJunkies New Tab has something to do with music, but you would be wrong. It all has to do with generating revenue from promoting certain websites. Removing this program is something worth considering as it is utterly useless. The websites that this program promotes can be bookmarked individually, so why keep it? Upon installation, TuneJunkies New Tab will automatically change your browser's homepage and new tab page to a modified Ask.com search engine. Our researchers have classified TuneJunkies New Tab as a potentially unwanted program. If you have accidentally installed this program and want to get rid of it, then you have come to the right website. You can find removal instructions at the bottom of this article.
TuneJunkies New Tab was developed by an unreliable software developer called APN. This developer has also released a clone program called WorldSport New Tab. This clone is almost identical to TuneJunkies New Tab. The only thing that differs between the two is the promoted websites. We do not think that the owners of the promoted websites are aware that these programs are sponsoring them. This program's main purpose, however, is to generate web traffic to the modified Ask.com search engine.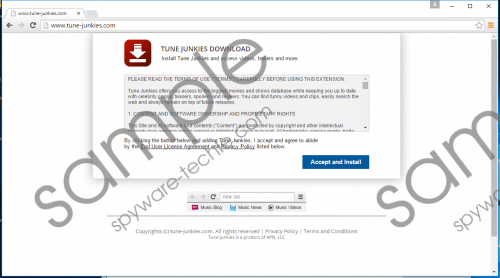 TuneJunkies New Tab screenshot
Scroll down for full removal instructions
Our researchers have found that APN uses several methods to disseminate this potentially unwanted program. It seems that it is promoted via advertisements of adware programs. This method is becoming more and more popular, so we advise caution when clicking advertisements. Checking your computer for adware is also recommended. TuneJunkies New Tab can also be downloaded from its download hosting website at Tune-junkies.com. This website does not feature a lot of information about this program. Therefore, some users mistake it for an Adobe Flash Player update.
Now, let us discuss how this program works. Allegedly, TuneJunkies New Tab will enable you to access videos trailers and other content. However, it just features three links including: Hotnewhiphop.com/videos, Popcrush.com/category/music-news, and Popjustice.com. All of the aforementioned websites are legitimate. But do you really need a program to provide you with links to these websites? Of course not, it is just a distraction, because this program's main objective is to generate web traffic to Search.ask.com which is distributed by iMesh. This search engine uses browser cookies to gather information, such as IP addresses, Technical information about your computer or mobile device, browser information , your preferences and settings, search queries, mis-formatted DNS entries, search results selected, clicks, pages viewed, search history, comments, and so on. This information is used to provide customized search results that may include sponsored links to unreliable websites. Therefore, you should not trust TuneJunkies New Tab.
All in all, TuneJunkies New Tab is truly a potentially unwanted program. You may keep it if you so desire as it is not malicious, but there is absolutely no reason to do so. Upon installation, it changes the default homepage and new tab page to an unreliable search engine that may feature links to third-party websites. It also collects information about you. So if you want to remove TuneJunkies New Tab, please consult the instructions below.
Get rid of TuneJunkies New Tab manually
Open Google Chrome.
Tap Alt+F.
Select More tools and click Extensions.
Find the extension and click Remove.
In non-techie terms:
TuneJunkies New Tab is yet another potentially unwanted program released by APN. This program is set to automatically change Google Chrome's homepage and new tab page with Search.ask.com, which is a modified version of the original search engine that can feature promotional links to potentially unreliable websites. This program is also set to collect information about your browsing habits. So, you ought to remove this program in a timely manner.