Do you know what TubeAudBlockker is?
Computer users who find TubeAudBlockker running on their computers are guaranteed to face irritating, potentially misleading pop-up and in-line advertisements. The application is meant to remove ads which interrupt YouTube videos; however, it is meant to present third party ads as well. Needless to say, the program contradicts its own purpose, and so you should not even think about installing it. We definitely recommend that you delete TubeAudBlockker if it was installed onto the computer already. Note that you may need to remove TubeAdBlocker, TuabeAdBlocker, TTubeAadBlocker, or applications using a similar name. Even though it may seem as if these programs are different, all of them represent the same application you want to get rid of. Schemers use this trick to aggravate the removal of adware.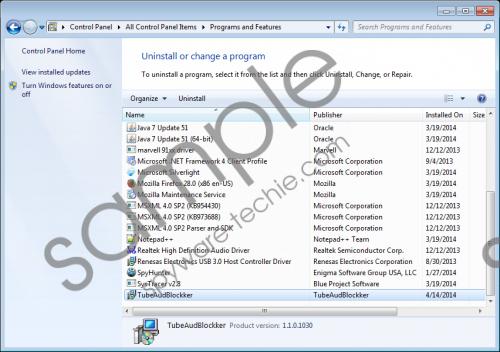 TubeAudBlockker screenshot
Scroll down for full removal instructions
Adware, or advertisement supported software, is meant to use your virtual activity and habits to produce supposedly beneficial offers and advertisements. Unfortunately, most of the displayed ads will bring you no benefit. In reality, these ads will be used to promote third party products and services. Are you sure you can trust them? Malware researchers do not recommend trusting TubeAudBlockker ads and the offers presented via them because the third parties representing them are unknown. Unfortunately, there always is a risk that advertisements presented by third parties will actually represent schemers. Do you want to take this risk? If you do not, you need to remove TubeAudBlockker so that potentially misleading advertisements would stop flooding the web pages you browse.
TubeAudBlockker removal is something you need to think about if you want to stop the flooding ads. You can use automatic malware removal software to get rid of this advertisement supported program. If you do not want to install security software to delete malware and to protect the operating system, you can delete TubeAudBlockker manually. The instructions below will help you delete the undesirable program from the computer. Post a comment below if you want to learn more about adware and its removal.
How to delete TubeAudBlockker?
Delete from Windows XP:
Open the Start menu and select Control Panel.
Double-click Add or Remove Programs and Remove the undesirable application.
Delete from Windows Vista and Windows 7:
Navigate to the Task Bar, open the Start menu and click Control Panel.
Go to Uninstall a program and right-click the one you wish to remove.
Click Uninstall.
Delete from Windows 8:
Access the Metro UI menu, right-click on the background and select All appbs.
Open the Control Panel, click Uninstall a program and find the undesirable software.
Right-click the application you wish to remove from the PC and select Uninstall.
In non-techie terms:
TubeAudBlockker is an advertisement supported application which may be presented using different variations of the original name TubeAdBlocker. Even though at tubeadblocker.eu the program is promoted as a beneficial and reliable tool, malware researchers identify it as an unreliable and useless application. We recommend that you remove the program from the computer as soon as possible. You can use the manual removal guides above or install automatic removal software. We recommend the latter option in order to ensure that other potentially existing adware or threats are deleted as well.