Do you know what Trunk Of Savings is?
Trunk Of Savings is not the kind of program that will save you money. Our researchers took a close look at this program and determined that it is just plain adware. You should remove it, because its advertisements are annoying, untrustworthy, and might even be somewhat dangerous. Some users may be deceived by Trunk Of Savings's advertisement campaign, since it has its own dedicated promotional website that people can go to in order to get some additional information. It is claimed that this program's ads that come in the form of coupons will help you get the best prices. However, our researchers do not buy these claims. Trunk Of Savings will only display random coupon codes that do not work on any website as well as other ads, so discounts are out of the question.
This program's website is located at Trunkofsavings.com. The company that developed it is not mentioned on the website and is not hard to see why. The website features a green "Download Now!" button, but upon clicking it you will be shown a message that reads "Sorry our extension is down for maintenance and currently unavailable." As far as we know, this message is being shown from day one, when the website was first launched. Its anonymous developer never features the download of a program on its website. It uses rather more deceptive tactics to distribute it, because very few people would download Trunk Of Savings on purpose. Malicious software bundles are typical dissemination vehicles, but they have proven to be the most effective, because people usually neglect checking if the bundle contains additional software. Such bundles are featured mostly on shady freeware distributing websites that our researchers recommend avoiding.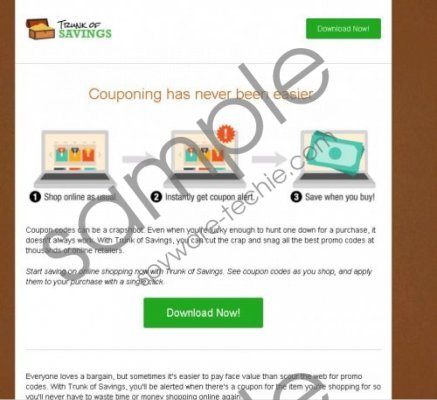 Trunk Of Savings screenshot
Scroll down for full removal instructions
Contrary to popular belief, adware is not made in basement by some inexperienced hacker-wannabe. Today, adware is a lucrative business that is dominated by adware developing and distributing companies such as SuperWeb, Injekt, and JustPlugIt. However, some developers like to stay in the shadows like Trunk Of Savings's developers do. This program is obviously not their first release. Recently, we have encountered several of its clones called Ninja Savings, BrowserWatchdog, and Majestic Coupons. We recommend that you remove these and other adware programs, because they are unreliable.
You might think that this program will provide you with discount coupons then think again, because it has been programmed to display very different content. Its website states that in addition to coupons, it will show you pop-unders, sponsored links that may appear as in-texts that appear in the search results, video ads, and banners. So you will get more then you might have bargained for, provided that you intentionally installed it with a bundle. Since all of its ads come from third-parties, it may be difficult to determine which ads are reliable and which are not, because this programs developers have little regard for your computer's security.
If you got this program unintentionally by installing a malicious software bundle, then you should not ignore it, since its advertisements are intrusive and are apt to promote misleading content. It might lead to your computer becoming infected with more adware. So, if you want to remove Trunk Of Savings, then make use of the instructions our researchers have composed.
Remove Trunk Of Savings
Windows 8, 8.1, and 10

Right-click on the Start Screen button.
Go to Programs and Features.
Find the unwanted progam and click the Uninstall button.
Windows Vista and 7
Open the Start menu and go to Control Panel.
Click Uninstall a program.
Find the undesirable software and click the Uninstall button.
Windows XP
Open the Start menu and go to Control Panel.
Click Add or Remove Programs.
Find Trunk Of Savings and click the Remove button.
In non-techie terms:
Trunk Of Savings is an adware program. Its developers claim that it displays discount coupons that help save money, but our researchers beg to disagree. This program has been set to display all kinds of commercial content that comes from third-parties, and therefore, are considered unreliable. So do not risk your computer's safety by ignoring this program's presence, please remove it.