Do you know what Trojan.PornoAsset is?
A screen-locking infection called Trojan.PornoAsset can attack your operating system very quickly, and you might be partially responsible for its entrance. Although this threat disguises itself to enter your PC, you are the one that allows cyber criminals to trick you. If you want to prevent being fooled, you will not open unfamiliar emails and their attachments, will not click on random links, and will not download unfamiliar programs promoted via suspicious websites and installers. Unfortunately, it is difficult to say how this Trojan will attack your PC because different methods could be employed. Once installed, this infection represents itself using a screen-locking notification that lists the demands of cyber criminals. Unfortunately, they use the disguise of an unnamed law enforcement organization, which is what tricks many computer users. Of course, instead of following the demands, you need to delete Trojan.PornoAsset, and we will help you do that.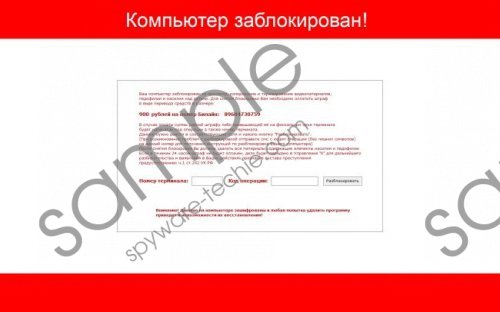 Trojan.PornoAsset screenshot
Scroll down for full removal instructions
Our research team has found that although Trojan.PornoAsset is targeted at users in Russia, it could also attack computers in other regions. If the non-Unicode programs on your computer do not use Russian, the notification applied by this Trojan will make no sense as normal words will be replaced with symbols and numbers. Needless to say, this makes the message carried by this notification illegible, but that does not change the fact that it paralyzes the computer. This is the worst situation you could find yourself in because it is very difficult to research something you cannot fully understand. All in all, if you find your Desktop locked with a white on red notification, chances are that you are dealing with a ransomware Trojan. If you encounter this notification in Russian, you might be tricked into thinking that you are fined for watching and spreading pornographic content. You are ordered to use Beeline to get a code that you supposedly can apply to restore access to your PC. The payment amounts to 900 rubles, which is around 14 USD/12 EUR. In reality, paying this ransom is the last thing you should do.
Trojan.PornoAsset was created by cyber criminals who only care about your money. They have no tools to detect illegal activity, but they use this against you to push you into paying what seems to be a fine. Will your computer be unlocked if you pay this ransom? Unfortunately, no one can guarantee this because it is cyber criminals that we are talking about, and they can be extremely unpredictable. Because the Trojan locks the screen, and the notification provided informs that files could be destroyed if you tried deleting it, many users choose to pay the so-called fine, which is completely unnecessary. On top of that, even if your Desktop gets unlocked when you pay the ransom, you are at risk of having your PC paralyzed again. Have you paid this ransom already? If you have, do not forget to delete the Trojan!
Our removal guide might look intimidating, but it is quite easy to follow. Choose the version of your Windows operating system and reboot your PC in Safe Mode with Command Prompt. Afterward, follow the steps that will help you erase malicious files and registry entries. The main file of the Trojan has a random name made up of random numbers, and this file name should hide in the value data of the value that you need to erase. Once you remove Trojan.PornoAsset from your computer, please scan it with a malware scanner to see if your PC is clean. Whether or not it is, implement reliable anti-malware software. This software will guarantee that malicious computer infections do not attack and take over your operating system.
Step 1: Safe Mode with Command Prompt
Windows 10
Click the Start button on the Taskbar and click Power.
Click Restart while pressing the Shift key on your keyboard.
In the Troubleshooting menu select Advanced options, and then move to Startup Settings.
Click Restart and, when the menu appears, select F6 (Safe Mode with Command Prompt).
Windows 8/Windows 8.1
In Metro UI click the Power button, press the Shift key, and click Restart.
In the Troubleshooting menu click Advanced options.
Move to Startup Settings, click Restart, and restart in Safe Mode with Command Prompt using F6.
Windows 7/Windows Vista/Windows XP
Restart the computer and start tapping F8 immediately after BIOS loads.
In the boot menu select Safe Mode with Command Prompt (use arrow keys and tap Enter after).
Step 2: Delete Trojan.PornoAsset
As the Command Prompt launches, enter regedit to launch the Registry Editor.
Click the File tab and select Import.
Type %HOMEDRIVE% into the address bar and tap Enter.
Delete the malicious file (look for random numbers instead of a name). Close the window.
Go to HKLM\SOFTWARE\Microsoft\Windows NT\CurrentVersion\Winlogon (if you run a 64-bit version, go to HKLM\Software\Wow6432Node\Microsoft\Windows NT\CurrentVersion\Winlogon).
Right-click the Userinit value and select Delete.
Reboot your Windows operating system in normal mode.
In non-techie terms:
Not all users realize that they need to remove Trojan.PornoAsset when they find their Desktops locked with a notification that is allegedly issued by some law enforcer. Even though the information within this notification encourages you to pay a "fine" and discourages you from deleting the infection, you should realize that the payment asked from you is illegal. Agencies trying to control cyber crime do not use computer-locking as a method to fine computer users, and this is the first red flag. Furthermore, you should never pay fines for something you have not done. Are you guilty of the crimes listed by this Trojan? If you are, let this be a warning that you should stop all criminal activity at once. Follow the manual removal guide above to erase the Trojan and then utilize a malware scanner to see if your PC is clean.