Do you know what TrendsTab.com is?
TrendsTab.com web page promotes a suspicious extension that is supposed to save your time while "getting the hottest trending topics all in one place, without having to visit multiple websites." The application might sound handy, but in this article, we will explain to you why it is much better and safer for your computer if you visit multiple sites for most popular news. TrendsTab.com suggested extension should change your preferences and show you questionable third-party content that could lead you to potentially malicious web pages. If you already installed the extension, we advise you to remove it as quickly as you can. For that reason, we are adding a removal guide below the text. You might find the article useful as well, it should help you avoid such software in the future.
To begin with, TrendsTab.com extension is classified as a browser hijacker because it changes your default homepage and search engine. We should also mention that so far the application is compatible only with the Google Chrome browser. It means that it should not work on other browsers, e.g. Mozilla Firefox, Internet Explorer, etc.
Furthermore, when the extension is installed your Google Chrome should load the application's search engine (search.trendstab.com), which might redirect you to Search.us.com. According to the browser hijacker's Privacy Policy, it could display advertising-supported search results. The ads would belong to the third party, so they might come from unknown sources. Thus, if you click such ads, you might land on malicious web pages that could contain Trojans, viruses or other malware.
What's more, before installation you might have noticed a warning, which says that the extension can "read and change all data on the websites you visit." It is possible that the application could detect ads placed on your visited sites and replace them with the advertisements from the software's third-party partners. Needless to say that these ads might be unreliable as well. Plus, you might miss advertisements of your favorite e-shops or other web pages.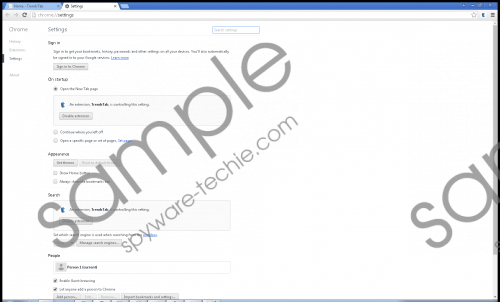 TrendsTab.com screenshot
Scroll down for full removal instructions
As we said earlier, the extension could be downloaded from TrendsTab.com, but you can also find it in the Chrome Web Store. Some users download extensions and other applications from this site without even thinking that it can offer unreliable software. It is your responsibility to review the program's Terms of use or Privacy Policy documents. Unfortunately, it is not enough to read the description as it rarely gives you any information that would help determine if the application is safe to use. In fact, you should also search for user reviews or information about software's developers and only then decide if it is trustworthy enough to be installed on your computer.
If you decide that you do not want to keep TrendsTab.com software on your system anymore, you can get rid of it with the instructions that are placed a little below this text. In order to remove the TrendsTab extension, you should remove it from the Google Chrome's extensions manager. Then, you should also reset your browser if you want to change your homepage and search engine. However, you could also remove the browser hijacker automatically with a trustworthy security tool. All you have to do is download and install it. Once you launch the security tool, you can do a system scan that will detect the threat. Afterward, you should click on a button that will appear after the scan, and the antimalware tool will erase the software.
Delete TrendsTab.com
Erase the extension from Google Chrome
Press ALT+F and select Settings.
Click on More tools and pick Extensions.
Find TrendsTab.
Press the trash bin button near it.
Select Remove.
Reset Google Chrome
Open browser, find settings icon on the top-right corner and click on it.
Select Settings, slide down and choose Show advanced settings.
Scroll down and click Reset Settings button.
Press Reset.
In non-techie terms:
TrendsTab.com advertises an extension that should provide you with the latest news about famous people, events, and so on. Also, it claims that it will allow you to see this content without visiting different web pages. Unfortunately, it only provides you with titles, and if you want to read the whole article, you have to click the link and go to its original web page. What makes it worse, is that the extension might also display questionable ads from third-party websites. Therefore, we advise you not to trust the application and remove it from your system with the reputable antimalware tool or the instructions provided above.