Do you know what Travel Deals Center is?
Travel Deals Center is a Chrome extension that is meant to help you find top destinations, vacation packages, and travel deals. Basically, if you travel often, or even if you are only planning one vacation, this extension is meant to be a highly helpful assistant. Well, if it was helpful, we would not be identifying it as a potentially unwanted program, or PUP. When you install this application, you agree to have information about your browsing activity collected and your browser modified to introduce you to a new search engine. These are the main reasons we recommend removing Travel Deals Center from your Google Chrome web browser. You should continue reading the report if you do not understand why the extension is classified as a PUP and if you want to learn how to delete it.
The official website promoting Travel Deals Center is traveldealscenter.co, but the installer is found at chrome.google.com/webstore/detail/travel-deals-center/micplnffabbokimaoakphidfnhifemcd. Most Chrome users trust the Chrome web store, and the current count of the extension is over 1,600. While that is not a lot compared to some of the more popular extensions, this number certainly can put Chrome users at ease and make them think that Travel Deals Center is enjoyed by many. Furthermore, the official website is professional-looking, and the benefits introduced via it are attractive. Of course, it is also possible that the PUP was injected into your browser via a bundled downloader along with other PUPs or malware, and if that is the case, you must inspect your system and delete potential threats.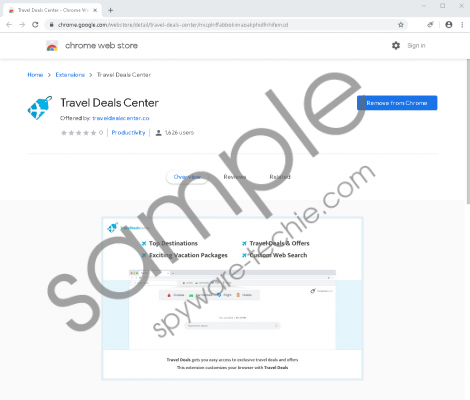 Travel Deals Center screenshot
Scroll down for full removal instructions
Once Travel Deals Center is installed, https://www.traveldealscenter.co/homepage/homepage.html is set as the New Tab page. The interface of this page is that of a search engine. At the top, you can find buttons that promote costcotravel.com, hipmunk.com, travelpirates.com, and travelzoo.com. If you visit these websites, you can find vacation deals, travel-related information, and all other things that Travel Deals Center promises, but if you think about it, the extension itself is useless because the only thing it can do is provide you with links to sites that you can use to plan your trip. That is one of the reasons to delete this extension from your browser. In the center of the search engine, you can find a search box, and if you enter keywords into it, you are routed to search.yahoo.com. Because the results could be modified, we do not recommend trusting traveldealscenter.co/homepage/homepage.html. If you continue trusting the engine, information about your interaction with the results will be collected using cookies, and, according to the PUP's Privacy Policy, some personal information is recorded too.
Overall, although it may not look like it at first, Travel Deals Center is a useless extension, and it appears to have been created for the sole purpose of promoting third-party sites, services, and ads. It can also ask you to allow notifications when you visit it, which you never want to do, unless you are okay with being bombarded with suspicious alerts and notifications. The manual removal guide below includes steps that show how to disable notifications. Of course, manual removal is not your only option and, in fact, we recommend deleting Travel Deals Center using an automated anti-malware program if other PUPs or threats are found, and if you need help protecting your system and browsers in the future.
Remove Travel Deals Center
Open Google Chrome and enter chrome://extensions/ into the address bar.
Click the Remove button linked to the Travel Deals Center extension.
Enter chrome://settings/content into the address bar and then click Notifications.
Find the website whose notifications you want to disable.
Click the More action button on the right and then click Remove.
Enter chrome://settings/clearBrowserData into the address bar.
Click the Advanced tab and, first, select the desired time range.
Check the desired boxes and then click Clear data.
In non-techie terms:
If you decide to install extensions, you need to make sure that they are trustworthy and beneficial. Travel Deals Center is neither, and that is why you ought to remove it from your Google Chrome web browser. Even though it can link to legitimate travel-related sites, it changes the New Tab page to introduce you to a suspicious search engine, and it also employs web cookies to track both personal and non-personal information. Luckily, it is easy to delete Travel Deals Center, which you can do manually using the guide above. Of course, if other suspicious extensions or programs exist, you should really think about employing anti-malware software that will, simultaneously, clean your system and web browsers and enable full protection against serious threats in the future.