Do you know what Track Net Speed is?
If you are interested in tools that could help you test your Internet speed and use Google Chrome, you might have heard about it or could be using a browser extension called Track Net Speed. It might sound useful, but you should know that it was categorized as a potentially unwanted program and might have undesired functionality. Therefore, we advise learning more about it before installing it if you want to be sure about it. Further, in this article, we talk about how this application might be spread, what it could do after it gets installed, and how it could be deleted if you decide that you do not want it anymore. Additionally, we provide a removal guide at the end of the main text to help you delete Track Net Speed if you decide to get rid of it manually.
Track Net Speed comes from a website called tracknetspeed.com. Also, at the moment of writing, the application is available on the Chrome Web Store page (chrome.google.com/webstore/detail/track-net-speed/lllgphednmbcmedipjmodlmffbipmflm). We do not think that these two web pages are the only sites that could be distributing this application. That is because it is classified as a potentially unwanted program, and such software is often spread through ads, pop-ups, and file-sharing websites. Thus, it is possible that users could come across this browser extension by interacting with pop-ups and ads or downloading installers from unreliable web pages. Naturally, we advise not to do so in the future if you want to avoid potentially unwanted programs, browser hijackers, adware, and tools alike. We recommend picking a reputable antimalware tool too, as it might make it easier for you to keep your system clean and, most importantly, protect it against malware.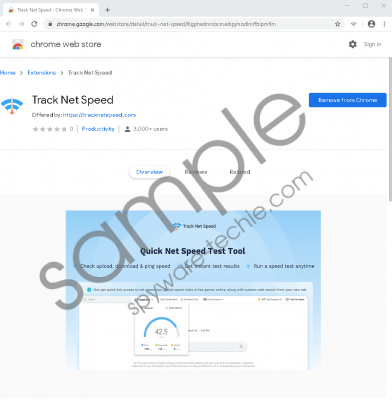 Track Net Speed screenshot
Scroll down for full removal instructions
What could you notice after installing Track Net Speed? Our computer security specialists say that this potentially unwanted program does not change the default search engine or homepage. However, it might change a user's new tab page with a search website that redirects to search.yahoo.com and place a toolbar below the browser's address bar. Such functionality might be useful, but you can reach the Yahoo search engine by typing its address or bookmarking it. In other words, you do not need any third-party tools to be able to use the Yahoo search engine. You could bookmark the links provided by the extension's toolbar too. What's more, upon the application's installation, you might be asked to allow it to view your browsing history. You should know that, according to the extension's Privacy Policy, the data it gathers could be used to "serve relevant content and advertising." The application could also share the information it collects with third parties, which might use it to create targeted ads.
If you do not like what this extension does and decide to erase it, you should know that there are two ways to get rid of it. First, you could try to delete it by accessing Google Chrome's extensions menu. If you have no idea how to do this, you could use our removal guide that is available at the end of this article. Also, since the application is classified as a potentially unwanted program, you should be able to erase it with a chosen antimalware tool. If you prefer this option, we advise picking a reputable antimalware software and performing a full system scan.
Erase Track Net Speed
Open Google Chrome.
Paste this link: chrome://extensions into the browser's address bar.
Press Enter and search for the potentially unwanted program.
Tap Remove located next to Track Net Speed.
Click Remove and exit the Extensions menu.
Restart your browser.
In non-techie terms:
Track Net Speed is a browser extension that offers links to websites with tools for testing Internet speed and free online games. The application may also change your new tab page with a search website that belongs to the extension. However, after testing it, our researchers noticed that it redirects to search.yahoo.com, which might be disappointing if you thought that you were going to receive a new and advanced search engine. Some users might also find it disappointing that the application may ask to view their browsing history. That is because some users do not want to be tracked or that data about their browsing would be used for marketing purposes. If you do not like the idea that this application could view your browsing history or show you tailored ads but still want to use its links, we advise bookmarking them. Afterward, you could erase Track Net Speed with a chosen antimalware tool or by following the removal guide available above.