Do you know what TotalSystemCare is?
TotalSystemCare is a PC optimization tool/registry cleaner that is supposed to streamline and improve your computer's performance. However, if you already have this tool, you might want to remove it, because our researchers found its scanning results to be rather suspicious. Like a lot of similar tools that have been classified as potentially unwanted programs, this one also does not provide very extensive information about its findings. Furthermore, it scans a computer super fast, which is impossible, because a good tool would perform an extensive and deep scan that takes some time to complete. We argue that purchasing this program is a waste of money and recommend that you get rid of it.
SafeBytes Software Incorporated is a software developer founded in 2013 in Quebec, Canada. However, over the years, this developer has built up quite a reputation for itself. It is now known as a developer of potentially unwanted programs that are by no means malicious, but rather useless. In addition to TotalSystemCare, this company has also released two other programs called SafeBytes AntiVirus program and DriverAssist. SafeBytes Software has a Facebook fan page that features several complaints about users' not receiving their license keys after purchasing their software. This just shows how committed the company is to satisfying its customers.
At any rate, TotalSystemCare is distributed using three main methods. It can be downloaded from its dedicated website at Totalsystemcare.com and freeware hosting sites at Software.informer.com and Download.cnet.com. Also, we have received information that this program can be found bundled with other software, but, currently, we do not have information about specific software bundles that contain it. Now let us move on to how this program works.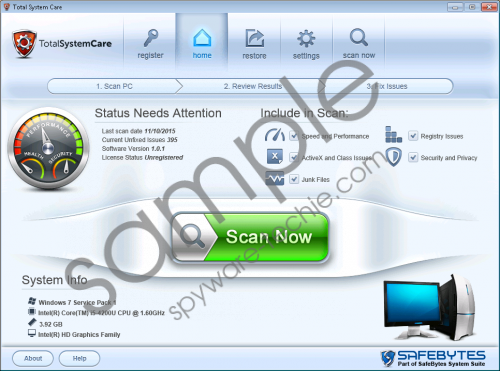 TotalSystemCare screenshot
Scroll down for full removal instructions
TotalSystemCare is a PC optimization tool that claims to increase your computer's performance by boosting PC startup and program loading times, speeding up web browsers, cleaning Windows Registry, protecting against malware, and cleaning up junk files. However, this program provides little to no information regarding its scan results. It does not even show the entire file path so that you could go and check whether a detected threat is present. Furthermore, its scan results often show the same file being detected as a separate case 10 times over, which leads us to believe that the scan results are purposefully staged to look as if your PC is in an atrocious state.
While testing this program, our researchers found that it detects some junk files, but they contribute nothing to slowing down your PC and pose no threat to it. So it shows very little information about its findings, and you are expected to pay $29.99 USD for it to resolve the detected "issues." We guarantee you that you will not notice any improvements in your computer's performance after you start using this program. If you decide to purchase TotalSystemCare, then you will be given other offers that include buying a SafeBytes AntiVirus program and DriverAssist. Judging by the performance of TotalSystemCare you might want to decline those offers.
As you can see, TotalSystemCare is not a good investment, and, if you have downloaded the free version and are considering purchasing the full version to clean your system of supposed issues, then we suggest you reconsider. Given this program's questionable origins and its less than adequate scanning process, we recommend that you remove TotalSystemCare.
How to uninstall TotalSystemCare
Windows XP
Open the Start menu and go to Control Panel.
Click Add or Remove Programs.
Locate the unwanted software and click the Remove button.
Windows Vista/7
Click Start and go to Control Panel.
Go to Programs.
Click Programs and Features.
Locate the optimizer and click Uninstall.
Windows 8/8.1/10
Right-click on the Start menu.
Click Programs and Features.
Locate the application and right-click on it.
Click Uninstall.
In non-techie terms:
TotalSystemCare is regarded as a potentially unwanted program due to its shady functionality. It does not provide its users full information about its findings. It performs an alleged full system scan in less than 10 seconds, but this is far too fast for any good PC optimization tool. Also, it was developed by a company of questionable reputation. All things considered, this program is not good, so we suggest removing it.