Do you know what Topwebclub.com is?
Topwebclub.com is a search engine that is classified as browser hijacker. Therefore, we can tell that this program entered your computer behind your back, and you have no idea what to do with it. Well, perhaps you do know that you need to remove Topwebclub.com, and this is why you are reading this description. If that is the case, then you have clearly opened the right page. Scroll down to the bottom of this article for the manual removal instructions. Also, check out the rest of the description for more information on this application.
This browser hijacker mostly affects Chrome and Internet Explorer by changing your default startup page with topwebclub.com. This search page looks like a custom Google search with several shortcuts to popular websites. As you can see, with these modifications, Facebook, Gmail, Wikipedia, YouTube, ESPN, BBC, Twitter, Booking, and a few other sites are just a click away from you. However, you probably also know that you can easily create similar shortcuts yourself by adding them to your browser's shortcut bar, right? Thus, there is no practical use of this search engine because you can get all of your search results directly from Google, too.
Albeit browser hijackers seldom inform users about the oncoming browser settings modifications, they also cannot spread around the web on their own. This program probably arrived at your computer with a number of other potentially unwanted apps. Just think about it: have you downloaded any freeware app recently? Did you download it from its official page? Or what is a third-party file-sharing website? Although it is very easy to download programs from third-party sources, you have to recognize the potential risks behind it.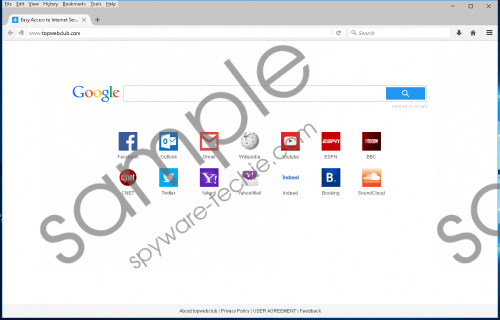 Topwebclub.com screenshot
Scroll down for full removal instructions
Third-party installers often contain more than just one program inside, and when you launch the installation wizard, you are often given the chance to avoid installing additional apps. Topwebclub.com might as well be one of them. However, users tend to skip important setup steps because they want to use this one program (they think) they downloaded as soon as possible. As a result, many undesirable and potentially harmful applications get installed on target systems.
What are the main implications of a browser hijacker infection? Exposure to corrupted content. Now, here we would like to point out that Topwebclub.com is in no way associated with Trojans, ransomware, and other malicious infections. The hijacker might be related to Hao123 and Yandex (because it uses the same webpage template), or it could be created by the people behind Stacktrending.com (because it is hosted on the same server). However, browser hijackers are there to make easy money for its developers, and their main "sin" is that they are extremely susceptible to malevolent third-party exploitation.
In other words, it may not be the program's intention, but Topwebclub.com might as well be used as a vehicle for information gathering or content distribution. Therefore, the moment you experience the browser modifications, you need to take the matter into your hands and terminate this hijacker at once.
You may need to delete all the potential threats from your computer to terminate the apps associated with Topwebclub.com. How to know which programs may cause you trouble? Simple: scan your PC with the SpyHunter free scanner and get a detailed status report.
Most of the time, it is possible to remove potentially unwanted programs manually, but if you do not want to deal with it, you can terminate them with a computer security tool of your choice. Finally, as far as this hijacker is concerned, restoring your browser settings to default should be enough to solve this issue.
Nevertheless, if something goes wrong when you try to get rid of Topwebclub.com, please do not hesitate to leave us a comment. We are always ready to help you troubleshoot the issues you face. Also, we would like to remind you that you should steer clear of websites you do not know because they might be part of the hijacker distribution network. It is not just the computer security program you use. It is also your web browsing habits that influence the state your computer's security.
How to Delete Topwebclub.com
Windows 10 & Windows 8.1
Press Win+R and the Run prompt will open.
Type Control panel and click OK.
Go to Uninstall a program and delete potential threats.
Windows Vista & Windows 7
Click the Start menu and open Control Panel.
Click Uninstall a program and remove unwanted applications.
Windows XP
Press the Win key and navigate to Control Panel.
Double-click Add or remove programs and remove unwanted apps.
Change Your Browser Settings
Internet Explorer
Press Alt+T and open Internet options.
Click the Advanced tab and press Reset.
Mark the Delete personal settings option and click Reset.
Click Close to complete.
Mozilla Firefox
Press Alt+H and select Troubleshooting information.
On the new tab, click Refresh Firefox.
Click Refresh Firefox again and press Finish to complete.
Google Chrome
Press Alt+F and click Settings.
Scroll down and click Show advanced settings.
Go down to the bottom and press the Reset Settings button.
Click Reset to confirm.
In non-techie terms:
Topwebclub.com may look like a search engine that works just like any other reliable search provider out there. However, this program is a browser hijacker, and it means that it should not be allowed to remain on your computer. Do yourself a favor and remove Topwebclub.com right now, together with all the other unwanted applications that might have arrived with this hijacker. If you need professional assistance, do not hesitate to use a powerful antispyware tool.