Do you know what Topsocialtabsearch.com is?
Topsocialtabsearch.com is an untrustworthy search tool that you might find set on all your browsers, including Internet Explorer, Google Chrome, and Mozilla Firefox. We are sure that you have not set this questionable search engine on browsers yourself even though you see it there because Topsocialtabsearch.com is known to be a browser hijacker that hijacks browsers in order to change their settings. If it ever finds out how to enter your computer too, you will see it set in the place of your homepage and the New Tab page. Generally speaking, you will see it every time you launch your browser. We know that many users do not even hurry to get rid of it because Topsocialtabsearch.com does not seem to be a bad search engine at first glance. If you are about to keep Topsocialtabsearch.com too and use it as your primary tool for searching the information on the web, you should know that it is a very bad idea to do that because Topsocialtabsearch.com is not a search tool that is trustworthy. Also, it is known that it might expose users to potential threats very quickly. We are sure this article will help you to decide whether or not to keep this application installed on the system, so read it all attentively!
Topsocialtabsearch.com does not look like an untrustworthy search engine; however, if you look closer at the search results it displays for users, you will notice that its search page slightly differs from the one shown by Google or another reputable search tool. Of course, not all the users notice that, but we can assure you that you might see advertisements on the search results page. They are put there together with trustworthy search results that are based on the search query, which means that many users click on them accidentally and do not even understand that these commercials can expose them to potential threats. According to our team of specialists, advertisements are shown for users with an intention of promoting third-party websites mainly. Also, it is very likely that the developer of the Topsocialtabsearch.com search engine gets money for promoting these third-party websites and increasing their traffic rates as well. If you are one of those users who cannot understand why these ads are dangerous, you should know that they might simply redirect you to an untrustworthy website containing malicious software. Untrustworthy software you find on such websites might sneak onto your system very quickly and, as a consequence, cause serious harm.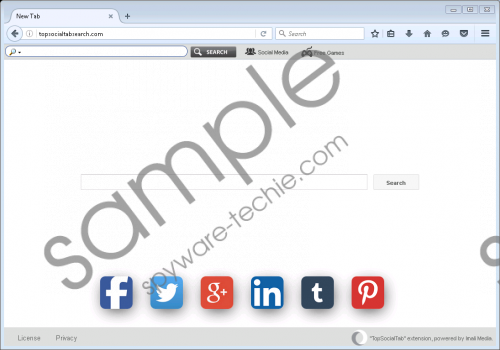 Topsocialtabsearch.com screenshot
Scroll down for full removal instructions
The presence of sponsored links and ads is one of the main problems associated with Topsocialtabsearch.com; however, we suggest getting rid of it not only because of that. Our researchers have managed to reveal that this search engine gathers information about users as well. It is not surprising at all that it acts like that because other questionable search engines, e.g. search.mytelevisionxp.com and search.myinterestsxp.com from the same family acts the same. Fortunately, Topsocialtabsearch.com mainly gathers non-personally identifiable information; however, it is clearly stated in the Privacy Policy that these non-personal details might still contain personal information. For example, search queries might contain personal details because a user has entered something personal into the search box.
Once the Topsocialtabsearch.com browser hijacker enters the computer, it immediately applies changes. As you already know, you will see it set in the place of your homepage and the New Tab URL; however, these are not the only modifications it makes. Specialists have noticed that this hijacker will modify the Start Page value which can be located in HKEY_CURRENT_USER\Software\Microsoft\Internet Explorer\Main. Also, it will modify the prefs.js file that belongs to Mozilla Firefox to be able to alter the homepage and New Tab URL. Third, Web Data, Preferences, and Secure Preferences files will be changed too. Yes, Topsocialtabsearch.com is quite a sophisticated tool, but we are sure you will be able to get rid of it yourself despite the changes it makes.
All you need to do to fully eliminate Topsocialtabsearch.com from all your browsers is to reset them to their default settings. Our manual removal instructions should help you to get rid of Topsocialtabsearch.com easily; however, if it is the opposite, you should scan your computer with an automatic malware remover, such as SpyHunter.
Remove Topsocialtabsearch.com manually
Internet Explorer
Open your browser.
On the Tools menu (tap Alt if you do not see it), click Internet Options.
Open the Advanced tab.
Click Reset.
Mark the Delete personal settings box.
Click Reset again in the dialog box.
Mozilla Firefox
Launch your browser.
Click on the menu button.
Click Help (a question mark).
Select Troubleshooting information.
Click Refresh Firefox.
In the dialog box, click again on this button.
Google Chrome
Start your browser.
Open the main menu and then click Settings.
At the bottom, click Show advanced settings.
Click Reset settings.
In the box that appears, click Reset.
In non-techie terms:
Even though browser hijackers are sneaky infections, there is a way to protect the computer from these threats. You just need to do two things. First, it would be smart to be careful with third-party software, especially if you get it from a P2P or a torrent website. Secondly, we highly recommend installing a reputable security tool on the computer. It will ensure the maximum protection of your system.