Do you know what Topsocialhubsearch.com is?
There is now a new group of browser hijackers, annoying multiple computer users worldwide. Browser hijackers may not seem dangerous at first, but if you suddenly see that Topsocialhubsearch.com is set as your default homepage, you should seriously scan your system with the SpyHunter free scanner. An unsolicited browser settings modification is the first sign of a potential security breach. Thus, you should not think about it any longer: remove Topsocialhubsearch.com from the system to ensure that not malicious application enters your computer in the future. If necessary, acquire a powerful antispyware application that would protect you from harm.
Perhaps it looks like Topsocialhubsearch.com can work as a decent search engine because it has the default search box and even a search bar that gets added to your browser. What's more, the homepage also comes with shortcuts to Facebook, Twitter, Google+, Tumblr, and other popular websites. We would not recommend clicking them because it is clear this hijacker monitors your web browsing activity. Clicking on these shortcuts directly through the hijacker's homepage would just make it easier for the program to monitor you. Of course, the hijacker cannot do anything to you unless you land on a dangerous site yourself, but you should consider your privacy top priority.
So, even though this domain may look like a genuine search provider, you should not perform any searches via this address. The browser hijacker is identical to all the other programs in this group, so you can expect it to behave just like Search.MyTelevisionXp.com, search.mycouponsxp.com, search.myinterestsxp.com, and a bunch of other browser hijackers released by the same developers. In a way, when a program belongs to a group of similar applications, it makes it easier to deal with it because you already know what to expect of it, and the removal method is usually the same as the one used on its predecessors.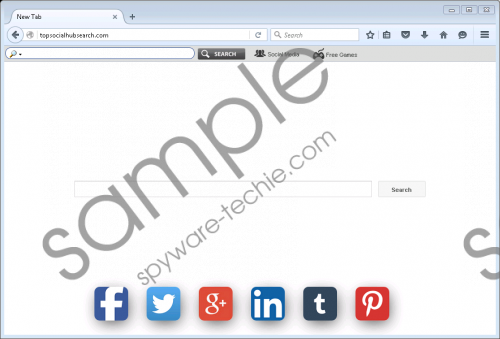 Topsocialhubsearch.com screenshot
Scroll down for full removal instructions
We could say the same about Topsocialhubsearch.com, as well. In a sense, we know everything there is to know about the program, but it does not mean the application can be taken lightly. Of course, the browser hijacker itself will not infect you with malware, but it CAN, and it WILL expose you to dangerous websites that could be part of malware distribution networks. Why does it happen? The browser hijackers need some kind of income source, and thus it allows third parties to promote their content in the hijacker's advertising space.
You must have noticed already that Topsocialhubsearch.com displays quite a few commercial ads, either on its homepage or in between the search results. The problem is that the application does not screen the third-party links that get embedded into that advertising space. So virtually anyone can embed their content into these ads, and if cyber criminals decide to do this, you would be only one click away from a severe malware infection. It goes without saying that you must protect your computer from such threats, and so the sooner you remove Topsocialhubsearch.com from your system, the better.
There is another thing we would like you to pay attention to when you get down to the removal. It is very likely that this hijacker is not the only potentially harmful application installed on your PC. It could have entered your system in a software bundle, and so it is strongly recommended that you run a full system scan with a licensed antispyware tool to locate all the other potential threats. Do yourself a favor, and remove these programs automatically as manual removal might be too much of a task for you.
As far as the Topsocialhubsearch.com manual removal is concerned, you just have to remove the hijacker's entries from your browser's settings. It is possible to do via the browser settings menu, but we will show you how to do that via the Program Files directories. It is far more reliable because sometimes the hijacker may reset your homepage again if you just delete it via the settings menu.
If something does not go according to the plan, please be sure to leave us a comment, and we will help you find the solution to your problem. Do not just sit and wait while the infection slowly cripples your system.
How to Remove Topsocialhubsearch.com
Internet Explorer
Press Win+R and then type regedit into the Open box.
Click OK and go to
HKEY_CURRENT_USER\Software\Microsoft\Internet Explorer\Main.
On the right pane, right-click the Start Page value.
Select Modify and change your startup page address.
Click OK and exit Registry Editor.
Firefox
Press Win+R and type %APPDATA%. Click OK.
Go to Roaming\Mozilla\Firefox\Profiles\[Unique Mozilla user ID].
Find and open the prefs.js file.
Locate and delete this string: user_pref("browser.startup.homepage", "http://Topsocialhubsearch.com");
Save changes and exit the file.
Chrome
Press Win+R and the Run prompt will open.
Type %APPDATA% into the Open box and click OK.
Go to Local\Google\Chrome\User Data\Default.
Delete these files: Preferences, Web Data, and Secure Preferences.
In non-techie terms:
Topsocialhubsearch.com is a trivial computer infection that could be a lot more dangerous than you think. This program will change your default homepage without your permission, and you certainly should not tolerate that. To remove Topsocialhubsearch.com for good, check out the manual removal instructions above. If you do not want to remove it on your own, you will need a powerful antispyware tool that would delete the infection for you.