Dou you know what TopFlix is?
Vendors of a program known as TopFlix state that it is a helpful tool that should provide access to restricted U.S web content. This means that you should be able to stream various TV shows and movies, which you usually you would not be able to do. While these claims sound promising, you must be informed that this piece of software has been classified by malware experts at Spyware-Techie.com as another adware program that should be avoided at all times. The fact is that this program will mostly interfere with your daily online activities. Additionally, it could perform devious background tasks that could have rather devastating outcomes. Even though this adware program is mostly targeted at U.S users, our reports show that quite a few users around the globe have this invasive program active on their PC. Thus, your geographical location does not make any significant difference, as this adware is often spread in suspicious ways. We highly advise you to delete TopFlix without any hesitation as it holds no valuable features. Read the rest of this report and find out about the questionable functionality of this adware. Below we provide comprehensive removal instructions that will help you terminate this ad-supported application in the easiest way.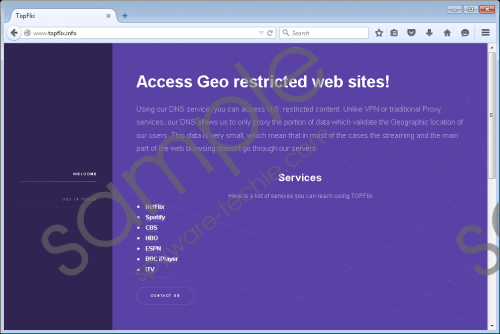 TopFlix screenshot
Scroll down for full removal instructions
The overall functionality of TopFlix is quite different from other adware programs of today. Instead of relying on browser extension like so many programs of this category do, the ad-supported application modifies DNS settings. Such activity is the reason an unusual amount of unwanted third-party web content is presented to users who have this adware program fully running on their PC. Usually, undesirable content is presented as worthless ads, coupons, and annoying pop-ups. All of this is presented in a random way, at random times, on random websites, whether you like it or not. In addition, to changing your DNS settings, this program also starts a background system service which is also an essential part of the functionality. Thus, only restoring your default DNS settings will not be enough to stop all the ads, pop-ups, and coupons from appearing within your web browser. What is even more annoying about TopFlix is the fact that in reality this program will not be of any help. It will not provide you with access to any restricted web content as it promises to. It goes without saying that the invasive adware application it question will make your overall online experience an annoying one, to say the least. You must execute a complete removal of it in order to regain the standard functionality of your web browser.
While annoyance and frustration caused by TopFlix should be more than enough to convince you to delete it, you must know that sometimes by just simply running this invasive piece of software on your computer you could face dangerous outcomes, to say the least. This is mostly due to the changes made within your DNS settings. Once these settings are altered and are fully working hand in hand with the background system service, a silent download could be triggered. This means that without any authorization or notification the adware program in question could download suspicious and at times even malicious programs. This is obviously an instance that must be avoided at all costs. If that was not enough, our malware researchers have discovered that at times TopFlix could also present you with ads, pop-ups, and coupons that might be embedded with redirect links. This is another extremely dangerous situation since by simply clicking on an ad or pop-up you could be taken to websites that might expose your PC to malicious web content. For instance, you could land on a website that might be running an arbitrary code execution exploit. Landing on a site that runs such exploit could be more than enough to get your PC infected with some unknown malware. It goes without saying that such invasive and potentially malicious situations due to this adware program are the main reason we advise you to remove TopFlix as soon as it is found active on your computer.
The complete removal of TopFlix is critical as it is the only way to stop all the annoying and invasive activity that it promotes. Follow the instructions that we provide below carefully since just one missed steps could result in a non-complete removal of this adware. We also recommend analyzing your PC for potential leftover files or registry entries associated with this unwanted program. This way you will be sure that every single bit of TopFlix has been removed from your computer.
How to remove TopFlix from your computer
Windows 10
Right-click the Windows button.
Select Control Panel.
Click Uninstall a program.
Locate and select TopFlix.
Click the Uninstall button.
Windows 8 and 8.1
Right-click your Task Bar.
Select Control Panel.
Click Uninstall a program.
Double-click the unwanted program.
Confirm that you want to remove it.
Windows 7
Click the Windows button and select Control Panel.
Click Uninstall a program.
Select the malicious application.
Click the Uninstall option.
Windows XP
Click Start and select Control Panel.
Select the Add or remove programs option.
Select TopFlix and click the Remove option.
In non-techie terms:
A complete removal of TopFlix is imperative to your overall system security. If you find manual analysis of your computer too complicated, do not worry. Our malware excerpts have crafted alternative removal instructions that will help you terminate this adware in its entirety in an automatic manner.