Do you know what Todays News Reporter is?
Todays News Reporter is promoted as a time-saving extension. More specifically, it should enable users to access popular news websites like Fox News, World News, US News, and other popular news pages with the click of a button. It sounds like a very useful feature, so it is not at all surprising that some users click on the Add button located in the Chrome Web store (https://chrome.google.com/webstore/detail/todays-news-reporter/oodhhpbehnofikfecgadcppcegmbobep) or install this piece of software from its official website (http://todaysnewsreporter.com/). Users are told that changes will be applied to their New Tab URLs; however, research conducted by our team of experienced specialists has revealed that this piece of software will change users' homepages on Mozilla Firefox and Google Chrome browsers as well. We suspect that this is the reason so many users decide to remove Todays News Reporter from their browsers. Of course, not all the users delete this application because of that. Some of them make a decision to get rid of it because they feel that it has slithered onto their PCs without permission. We are sure you will not regret removing it because it is not exactly what it claims to be. Continue reading to find more about it.
Although Todays News Reporter promises to make it possible to access news websites with just one click and "watch breaking news online," it is not a fully trustworthy application. To be frank, we do not even recommend keeping it active on your PC because it has been classified as a potentially unwanted program by specialists. These programs are not harmful applications, but they might still cause problems to users, so it is not smart to keep Todays News Reporter installed. The first reason it has fallen into this category is the fact that it only tells users about the modification of a New Tab page, but, in reality, it also sets its page as a new homepage thus making users favorite URLs gone. Because of this, http://search.searchtodaynr.com/ will be automatically opened for you each time you launch your Mozilla Firefox or Google Chrome (it is compatible with these two browsers only). This page contains a search box and easy-access buttons opening popular pages, which you might find convenient, but it is all it does, so we cannot consider it a very beneficial piece of software. We cannot confirm that it is safe to use its search provider for performing web searches as well because it might show the so-called modified search results next to reliable Yahoo! search results. Modified search results have the appearance of ordinary search results, but they differ from those decent ones shown by reputable search tools in a sense that they might redirect users to pages with no information they are looking for because they simply promote certain pages. Needless to say, we cannot promise that all the promoted websites are decent and you will not land on a page containing untrustworthy software.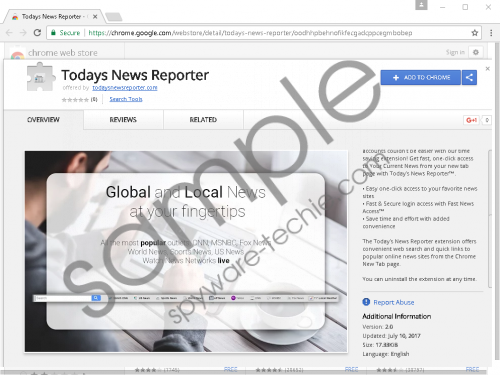 Todays News Reporter screenshot
Scroll down for full removal instructions
Todays News Reporter has fallen into the category of potentially unwanted software also because it tracks users and might even record personally-identifiable information. At least it does not try to hide this from users:
BY USING THE SERVICES, YOU ARE CONSENTING TO GRANT POLARITY PERMISSION TO COLLECT YOUR URLS AND SEARCH DATA, INCLUDING SEARCH QUERIES THAT MAY CONTAIN PERSONALLY IDENTIFIABLE INFORMATION, SHARE THEM WITH THIRD PARTIES, AND USE SEARCH-RELATED COOKIES.
These are not the only details this extension is going to collect. Its Privacy Policy document informs us that it is also going to record data that does not identify users personally, e.g. the type of browser a user is using, his/her operating system type, IP address, URLs and websites visited, geographic location, and a bunch of other details. You cannot change this, but you can remove this extension to stop undesirable activities it performs.
Although Todays News Reporter has official sources and users can download it willingly from the web, this potentially unwanted application still tends to enter computers without permission. For example, it usually shows up on the system when users click on a malicious pop-up advertisement. Also, it might travel bundled. No matter how it has entered your computer, remove it as soon as possible if you wish to have a safe and sound computer.
To undo the changes applied to your browsers, you need to remove the extension Todays News Reporter. It should be noted that it appears among active extensions on Mozilla Firefox using the name News. You can use our manual removal guide if you have never deleted any extension before, but keep in mind that it can be erased automatically too if you find the manual method too challenging.
Delete Todays News Reporter
Mozilla Firefox
Open Mozilla Firefox.
Press Ctrl+Shift+A and check the list of extensions.
Select the one named News and click Remove.
Google Chrome
Start Google Chrome and press Alt+F.
Select More tools.
Click Extensions to open the extensions menu.
Locate Todays News Reporter and click the Trash button next to it.
Click Remove.
In non-techie terms:
Todays News Reporter is not exactly what it claims to be. Despite the fact that it is promoted as a beneficial piece of software that can even help users to save some time by enabling them to access popular news websites with the single click, it cannot be called a fully trustworthy application because it performs undesirable activities. Of course, it is not a harmful malicious application, but we still do not recommend keeping it active due to the problems that might arise if it stays.