Do you know what Tlerauic is?
Tlerauic is a program which belongs to an adware family called Hicosmea. Our experienced team of specialists has noticed that it can use other names too, e.g. Caclepre, Magtu, Denaf, Erdysur, and others, but this does not change the way it acts. Tlerauic is not a good program, we can assure you, so if you ever find it installed on your computer, go to delete it without consideration. If you keep it, you will notice such undesirable symptoms as the slower Internet connection and sluggish Internet Explorer. Of course, there are users who do not even suspect that they have Tlerauic installed on their computers for a long time because this program enters computers secretly, does not have an interface, and works silently in the background. Most probably, you have already detected it on your computer if you are reading this article. Delete it because it performs undesirable activities on your computer. You will find out more about this application and removal methods that can be employed to erase it if you read the remaining paragraphs of this article too.
Tlerauic does not enter computers to provide the useful service for users. Its main goal is to generate money for its developer. It does that by loading commercial advertisements in the background. Let's look deeper into this process. Our guys have tested this program in their internal lab and noticed that it does not keep opening commercials itself. Instead, it keeps loading ad.mediaplzaz.com/frame.html, which, most probably, is an advertising domain, and it opens certain ads. Evidently, it performs the activity called click fraud. The developer of Tlerauic gets money out of this, but users who encounter this program do not experience any positive emotions because it decreases the speed of their Internet connections and might slow down Internet Explorer. Generally speaking, this program uses the infected system's resources.
Researchers have found that Tlerauic not only keeps opening an URL loading advertisements, but also keeps connecting to a.highercdn.com from time to time. Research has clearly shown that this activity is performed not without reason. It has become clear after the investigation that Tlerauic also sends information from a user's computer to its server. Luckily, only information associated with the installation/removal of this program is sent there. It seems that the developer of Tlerauic tracks when users install and remove this application from their computers. You can only disable it by removing it, so do not postpone this activity.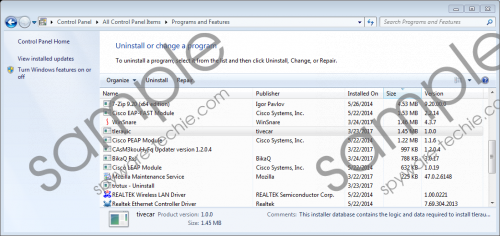 Tlerauic screenshot
Scroll down for full removal instructions
You will not find an official website of Tlerauic because it does not exist. What this says about this application is that it illegally enters computers. Most probably, just like other members of the Hicosmea family it belongs to, it enters users' computers hiding in software bundles. It is, of course, not presented as an undesirable program for performing the click fraud. It uses the name Nuvision Data Remarketer, which does not sound dangerous at all, so users allow it to enter their computers and do not even suspect that it can be untrustworthy. Of course, there are users who do not even notice when and how this piece of software shows up on their computers. It is not very surprising because, in most cases, these bundles consist of several items.
Surprisingly, Tlerauic has an uninstaller although it is an undesirable program performing selfish activities, so it should not be that hard to erase it manually. Do not worry even if you find the manual method complicated because this adware/potentially unwanted program (yes, specialists say that it has features of both these types of undesirable applications) can be deleted automatically with such an antimalware tool as SpyHunter too. We leave the final decision in your hands!
Remove Tlerauic manually
Windows XP
Click Start.
Launch Control Panel.
Open Add or Remove Programs.
Locate the entry of Tlerauic there.
Right-click on it and then select Remove.
Windows 7/Vista
Launch the Start menu.
Click Control Panel to open it.
Click Uninstall a program.
Find the undesirable program you need to delete.
Go to uninstall it.
Windows 8/8.1/10
Tap two buttons: Win and R.
Enter Control Panel in the box and click OK.
Click Uninstall a program.
Select the program you no longer want to see installed.
Uninstall it from your computer.
In non-techie terms:
You cannot be so sure that Tlerauic was the only undesirable application active on your computer because this program usually enters computers in software bundles, meaning that it usually travels with other third-party applications which have already been installed on your PC together with it. We cannot promise that all these applications which have been installed on your system can be trusted, so we recommend performing a system scan just in case. It will check if there are really no traces of Tlerauic left on the computer too.