Do you know what Titan Antivirus 2013 is?
Titan Antivirus 2013 is a rogue security application which you can encounter if your operating system is not protected by a powerful real-time anti-spyware program. The newest malicious program is attributed to a group of scareware programs which includes PC Defender 360, Multirogue Defender and PC Defender Plus. It is crucial that you remove Titan Antivirus 2013 as it makes the PC inoperable.
The fake antivirus program disables all executable files and your access to the Internet, so you will not be able to use any program on your PC except for the very vicious program. The ultimate goal of the infection is to deceive you into purchasing the licensed version of the program. According to the purchase page, a 6 months license would cost you 79.99 U.S. dollars, whereas the license for 12 months would cost you 99.99 U.S. dollars. Any of the sums mentioned is preferred by the criminals, but if you do not want to lose your money, act wisely and remove the infection from the PC.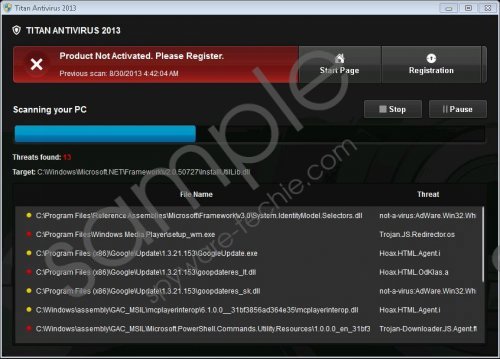 Titan Antivirus 2013 screenshot
Scroll down for full removal instructions
Titan Antivirus 2013 seeks to convince users that their data stored on the PC are at risk by imitating system scans and displaying misleading security warnings. Here is one of the warnings that you may encounter if you have the malicious program on your computer:
An application firefox.exe is infected with Hoax.HTML.Agent.i. Private data can be stolen by third parties, including credit card details and passwords.
Your credit card details may be stolen if you fill in the purchase form of Titan Antivirus 2013. Do not disclose your personal information, such as credit card number, its expiration date, your name and home address for these details may be recorded and used in the future for making online purchase and other illegal activities. Normally, when you purchase the license version of some software, you receive an activation key. In this particular case, there is no guarantee that you will receive one.
Nevertheless, malware researchers have retrieved a code which disables the fake scanner of Titan Antivirus 2013.The activation key is given below, and once you register the program, implement a powerful spyware removal tool.
Activation key: xOxZxLxWxIxTxFxQxCxNxYxKxVxHxSxE
As for the anti-spyware program, our team recommends using SpyHunter. It is a powerful spyware removal tool that has been used to eliminate ransomware infections, spyware threats, different rogue antivirus programs, and many other harmful threats. The recommended application will save your time by running system scans automatically and guard your privacy against different computer threats.
In non-techie terms:
Titan Antivirus 2013 is a rogue anti-virus program which is created to look like a reliable and safe security program. The reason why the program is installed on the PC without the user's approval is to make him or her purchase the supposedly licensed version of the program. The truth is that Titan Antivirus 2013 is a scam, and you should remove it from the computer as soon as possible.
Aliases: Titan Antivirus virus.