Do you know what Tinywallet ads are?
Tinywallet ads are commercial advertisements that appear on such popular online stores like eBay, Amazon, BestBuy and many others. These ads appear on Mozilla Firefox, Internet Explorer and older Google Chrome versions. The fact that Tinywallet ads appear on your browser means you have Tinywallet installed on your PC. Tinywallet is an adware application that promises to help you economize on your spending, but in reality all it does is slow down your browser and expose you to potentially corrupted third-party content. Hence, you need to uninstall Tinywallet if you want to get rid of Tinywallet ads.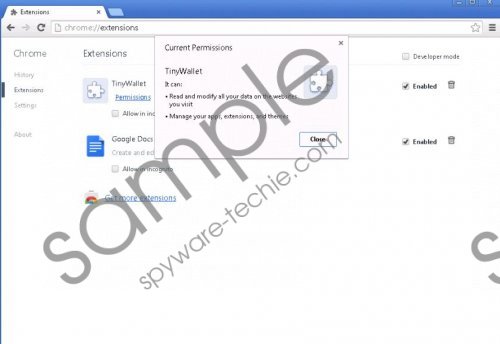 Tinywallet ads screenshot
Scroll down for full removal instructions
You most probably installed Tinywallet onto your computer, but you did not know that. Even though, this application has a website at tinywallet.net, it is clearly dysfunctional. In other words – there is no direct download link present. As a result, Tinywallet gets distributed via InstallRex, Vittalia and Amonetize installers, when users download bundled freeware from third-party websites. The same distribution method is applied by other programs from the same group, including LuckyCoupon, SaveNShope, TicTacCoupon, RealDeal and many others. The point is that if you want to avoid similar applications you have to stay away from third-party file hosting websites.
The guys at our research lab say that users often get infected with Tinywallet when they click fake download buttons at a number of file sharing websites. Usually, such websites contain several download buttons that are there to promote freeware and adware. If you click just anything, chances are that the next time you open your browser; you will be assaulted by Tinywallet ads. It is rather obvious that these advertisements are more annoying than useful. In fact, you are strongly advised against clicking Tinywallet ads because they might be embedded with unreliable third-party content.
The problem with such adware applications as Tinywallet is that they do not review third-party content, and its security is not covered by Tinywallet's privacy policy. Therefore, if a malevolent third party decides to make use of this application in order to promote its content, it will definitely do so. As a result, your personally non-identifiable data might be exploited by cyber criminals for various purposes, and in the worst case scenario you could get infected with malware.
Uninstall Tinywallet from your computer via Control Panel, and then do not forget to scan your computer with SpyHunter free scanner because you need to remove other unwanted applications, and you are bound to have more than just one. Adware programs always travel in packs, so if you terminate Tinywallet ads, you need to delete some other applications as well.
How to delete Tinywallet ads
Windows 8
Move mouse cursor to the bottom right of the screen.
Click Settings on Charm bar and go to Control panel.
Select Uninstall a program and remove Tinywallet.
Windows Vista & Windows 7
Open Start menu and click Control Panel.
Go to Uninstall a program and remove Tinywallet.
Windows XP
Click Start menu button and go to Control Panel.
Select Add or remove programs and uninstall Tinywallet.
How to remove Tinywallet from browser
Google Chrome
Press Alt+F and select Tools.
Open Extensions and remove Tinywallet.
Mozilla Firefox
Press Alt+T and click Add-ons.
Disable and remove Tinywallet from Extensions.
Restart browser.
In non-techie terms:
When Tinywallet is installed on your computer, this adware application displays a lot of annoying advertisements. These advertisements could lead to serious computer security issues, so you have to terminate Tinywallet ads before any security issues occur.