Do you know what Tiger PDF is?
Our research team identifies Tiger PDF as a potentially unwanted program, but Google Chrome users might think about it as a useful browser extension that can, supposedly, convert files AND websites from/to PDF. The extension is officially introduced at tigerpdf.com and can be downloaded from the Chrome Web Store (chrome.google.com/webstore/detail/tiger-pdf/cammhfbdgikheoieimmcemheeingdiop/). Is this where you downloaded the extension from? If you let the PUP in via a bundled downloader, or if you are not sure how it got in, before you continue reading, we suggest scanning your system to check if there are any other PUPs or more dangerous threats active on your operating system. If there are, you might need to address them first. Of course, all threats must be deleted, but in this report, we focus on removing Tiger PDF.
Tiger PDF is presented as a tool that can help you "covert your files to PDF easily without hassle or need to install any other applications." Well, considering that the extension must be installed before this service can be used, this statement sort of does not make sense. The extension, allegedly, supports PDF, JPG, PJPG, PNG, WEBP, TXT, SVG, HTML, DOC, and DOCX file formats, and so if you need to convert files frequently, and if you do not want to pay money for the service, Tiger PDF might seem pretty attractive. The thing with free services is that they usually have other ways to make money. This PUP appears to lean on advertising. Unfortunately, it advertises third-party content in a very strange way, and that is the main reason it is identified as a potentially unwanted program. What's the deal here? When you install the extension, it changes the default search provider to tigerpdf-search.com/search/?, but it uses a different search engine to show results.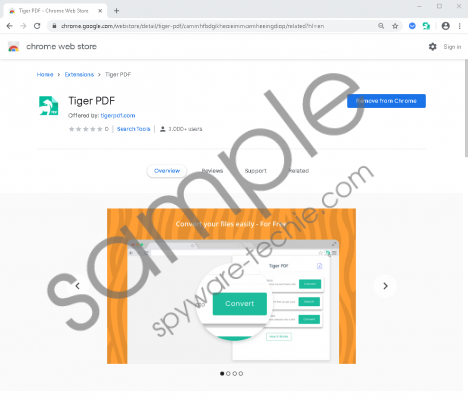 Tiger PDF screenshot
Scroll down for full removal instructions
Have you interacted with the search tool presented by Tiger PDF already? If you have, you know that it redirects to search.yahoo.com (Yahoo Search). If this is your normal search provider, you might not notice that the PUP has changed anything at all, and that is especially dangerous because you are likely to interact with the results you see without thinking much about it. The thing is that you need to be cautious because Tiger PDF modifies what you see to include sponsored content. Can the advertisers working with the PUP be trusted? That is hard to say because we are not provided with a list of parties that are involved. What we know is that the extension uses data-tracking tools to record browsing history and collect information about you, and it is possible that this data is used to help advertisers approach you with the most attractive links. If these advertisers are not trustworthy, this could be dangerous.
It is up to you to decide whether or not you want to delete Tiger PDF from your Google Chrome browser. This extension might seem useful, but its abilities to exploit a popular search engine to show modified results and to gather user information might outweigh the benefits. If you decide to remove Tiger PDF, we can offer you a manual removal guide that will help you get rid of the PUP and also the data-trackers that follow it. Obviously, if you have discovered other threats with the help of a malware scanner, this might be time for an automated anti-malware tool. Do not hesitate to install it because it will protect you against PUPs, adware, keyloggers, trojans, ransomware, miners, and all other threats that could affect you if you are not protected.
Remove Tiger PDF from Google Chrome
Open the browser and tap keys Alt and F together.
In the menu on the right, click More tools and then Extensions.
Click the Remove button next to the unwanted extension.
Tap Alt and F keys together, click More tools, and click Clear browsing data.
Go to the Advanced menu, select a time range, and check boxes.
Click the Clear data button and then restart your browser.
In non-techie terms:
Tiger PDF is a Google Chrome extension that promises to convert files. However, that is not all that it is capable of. It also can record user information. Furthermore, it can redirect to Yahoo Search and present modified results to promote third-party content. Due to these reasons, it is a good idea to consider deleting Tiger PDF. If you have made up your mind already, and you want to perform the removal, we propose two options. Either follow the guide above that shows how to delete the potentially unwanted program manually or implement anti-malware software that will erase the PUP automatically. It will also get rid of other potentially active threats and guard you in the future, and so it is worth looking into.