Do you know what ThugTracker is?
ThugTracker might seem like an application made especially for you if you are suspicious of your neighbors. Officially, this adware application promises to help you track all the "thugs" in the vicinity, allowing you to know the personal record of a particular person. However, our research team says that it would be best to remove ThugTracker from your computer as soon as possible because this application is not as useful as it might seem. It is, first and foremost, an adware program that can be used as a tool for malware distribution.
At first, this program may seem rather useful and reliable since ThugTracker can be easily downloaded from thugtrackerapp.com. The homepage says that you should "uncover the dirt before you get hurt." To put it simply, it should allow you to see whether any of the people around you have the so-called "dirty record." Naturally, the sole existence of such an application raises particular human rights concerns, so you should never download and use ThugTracker, all the more so that the application does not actually deliver. It may promise you "make your life better," but in reality it will only flood you with annoying commercial advertisements.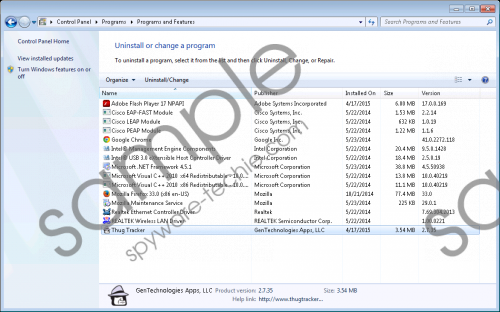 ThugTracker screenshot
Scroll down for full removal instructions
Some users say that they do not remember having installed ThugTracker on their own, and so they think that this application is malicious computer infection. It is definitely true that thugtrackerapp.com is not the only distribution source for this application. After all, adware programs are often distributed via third-party sources. Our research suggests that ThugTracker is often bundled with freeware that is downloaded from Softonic, Cnet, Brothersoft, and other sites that host freeware.
Users sometimes do not notice that they are about to install ThugTracker on their computers because they are too preoccupied with the application they wanted to download in the first place. As a result, ThugTracker enters your computer and starts collecting information on your web browsing habits.
Once it has enough information gathered, ThugTracker will start showing ads in various forms on a number associated websites. For example, it will display underlined words that will basically invite you to click them. Clicking these in-text ads will lead to a pop-up that will spam you with annoying and unnecessary advertisements.
Luckily, you can uninstall ThugTracker via Control Panel, so it should not be that hard to get rid of this application. On the other hand, our research team says that ThugTracker leaves some leftover files, so to be entirely sure that your computer is not exposed to potential threats, you should invest in a reliable antispyware tool that would take care of any remaining adware related files and applications.
How to Remove ThugTracker
Windows 8 & Windows 8.1
Move the mouse cursor to the bottom right of your screen.
When the Charm bar appears click Settings and go to Control Panel.
Open Uninstall a program and remove ThugTracker.
Windows Vista & Windows 7
Click the Start menu and go to Control Panel.
Select Uninstall a program and remove ThugTracker.
Windows XP
Open the Start menu and navigate to Control Panel.
Double-click Add or remove programs and uninstall ThugTracker.
In non-techie terms:
ThugTracker might promote itself as a useful browser extension, but this program has been created to generate financial profit for its developers and it does not care about providing you with reliable service. Please remove ThugTracker from your computer right now and scan your system with the SpyHunter free scanner to search for other risky applications.