Do you know what This PC Has Been Blocked - Screen Locker is?
This PC Has Been Blocked - Screen Locker is yet another threat that may cost you money if you believe what it claims. As a matter of fact, our researchers say that you should not fall for this trick because it is indeed a fake alert that is the base for a so-called technical support scam. The main idea behind this attack is that this fake warning message tries to scare you that something has happened to your system; allegedly a virus infected it and your private information could be in danger (e.g., passwords and user names). Since your screen and your basic system processes are also blocked, it may seem to you that you are really in trouble and have no other choice than calling the telephone number provided on this fake alert window. However, you will definitely not speak with Microsoft technicians as claimed by this warning. In fact, you could be tricked into purchasing some useless software or service for issues that do not even exist on your system. The truth is that all you need to do is remove This PC Has Been Blocked - Screen Locker and any related malware infections from your computer to restore your virtual security.
This fake alert is very similar to other technical support scams, including "1-800-953-457 Pop-Ups," "Windows Support. Call TollFree: +1 -855-441-4421," and "Please call us immediately at: (803) 702-1564." However, this warning does not come as a redirection to a malicious webpage but, instead, it travels with a Trojan program. This Trojan can infect your system in a couple of ways. For instance, you may click on unreliable third-party content, such as advertisements and links. This can happen when you are visiting suspicious websites, including torrent, freeware, and gaming pages, and you want to download a free program or file, or you simply click on one of the corrupt third-party ads on these pages. The problem is that you may not only download this Trojan and fake alert alone but a whole bundle of malware threats. This bundle may contain adware programs, Trojans, fake alerts, browser hijackers, backdoors, and more. If you want to make sure that your PC is secure, you should run a malware scanner right after you delete This PC Has Been Blocked - Screen Locker.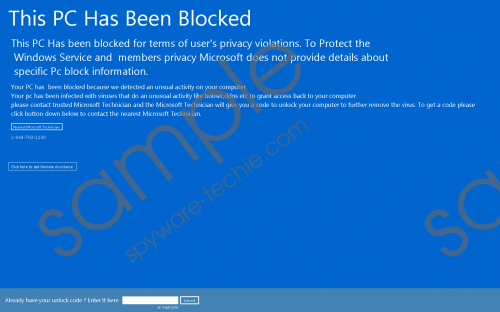 This PC Has Been Blocked - Screen Locker screenshot
Scroll down for full removal instructions
It is also possible that your system had already been infected with adware or a browser hijacker when you were exposed to the corrupt third-party content. When your PC is infected with such threats, you can never be safe while surfing the web. Even reputable pages and legitimate third-party ads can turn into traps and lead you to malicious pages or simply drop infections like this Trojan. As we have just mentioned, this is why it is important that you do not only delete This PC Has Been Blocked - Screen Locker but you also make sure that no other threats remain on board as well.
Once you let this Trojan on board, it blocks your main system processes, such as Task Manager, and your screen as well with this fake warning. This window covers your screen and uses a blue color that somewhat reminds us of the good old BSOD or blue screen of death, which is generally the worst nightmare of computer users. This "color code" may have a psychological effect on inexperienced computer users and they could believe that this is for real. This fake alert claims that some virus has hit your PC and now there could be a case of "privacy violations," which usually means that all your passwords and user names regarding your e-mail, social networking, and bank accounts could be stolen and misused.
Obviously, when you realize that you cannot close this window and you seemingly cannot do anything else on your computer, you may as well believe that there is something really wrong. You are given a telephone number to call ("1-844-703-1130"), which could seem like the last resort when you find out that the "Click here to get Remote Assistance" button below does not function. But even so, we do not recommend that you call this number because you may get disappointed. User reports show that you may simply get disconnected or hung up, but even if you get through, it could be a call center outsourced in India on the other end of the line trying to sell you something. Believe us when we say that there is no need to call any number now because we have a solution for you to remove This PC Has Been Blocked - Screen Locker from your system.
In fact, we can give you the unlock code that is hard-coded in this threat: "XP8BF-F8HPF-PY6BX-K24PJ-RAA00". If you enter this code at the bottom of this fake alert and press Submit, the screen lock will be gone. However, the Trojan would still be there on your system. Since we cannot know for sure whether this Trojan has created a point of execution (POE) or not, we suggest that you restart your PC in Safe Mode first. Then, you can delete the related files. Please follow our instructions below if you want to eliminate this threat manually. But, if you are looking for a more effective way to keep your PC clean, we advise you to install a professional anti-malware program, such as SpyHunter.
Restart your PC in Safe Mode
Windows XP, Windows Vista, and Windows 7
Reboot your system and tap the F8 key a few times to start up the boot menu.
From the list of options, select Safe Mode.
Hit the Enter key.
Windows 8, Windows 8.1, and Windows 10
On the Metro UI screen, click on the Power icon.
Tap and hold the Shift key, and choose Restart.
Select Advanced options from the Troubleshooting menu.
Select Startup Settings and click Restart.
Tap the F4 key to restart in Safe Mode.
Remove This PC Has Been Blocked - Screen Locker from Windows
Tap Win+E.
Delete the malicious file you downloaded and launched.
Empty your Recycle Bin.
Tap Win+R and type "msconfig". Press OK.
Click on the Startup tab and locate the suspicious application.
Select it and click Disable.
Close the System Configuration window.
Reboot your PC in Normal Mode.
In non-techie terms:
This PC Has Been Blocked - Screen Locker is an annoying threat that can also cost you some money if you fall for it. In fact, this is a fake warning that pops up on your screen after a Trojan infection manages to infiltrate your system. This fake alert claims that there have been suspicious activities like privacy violations on your computer and therefore your system had to be blocked. Since this fake alert also blocks your system files and you cannot close this window, you may really think that this is an authentic warning. You are pushed to call a given phone number for technical support; however, this will not unblock your computer. In fact, the phone could be hung up or a salesperson may want to sell you some system fixer product or service. We recommend that you remove This PC Has Been Blocked - Screen Locker as soon as possible. If you prefer automated solutions, you can use a reliable anti-malware program.