Do you know what TheTabSearch is?
TheTabSearch is not some malicious threat, but it is not a reliable or useful application either. In fact, our researchers categorized it as a potentially unwanted program (PUP) after they tested it in our internal lab. Apparently, the tool might introduce the user to a suspicious search engine and show him questionable advertisements from the third party or connect to the Internet without the user's permission. If you continue reading our report, you will learn more about the application's undesirable behavior. Also, at the end of the text, we will provide a removal guide to help you get rid of this PUP manually, although we cannot be one hundred percent sure it will work for all of our readers. In case even our instructions do not help you eliminate TheTabSearch, or it looks a bit too complicated for you, we could suggest employing a reputable antimalware tool instead.
For starters, you should know the PUP works only on the Google Chrome browser. Our researchers also determined TheTabSearch could be distributed with unreliable browser add-ons, such as Search Extension by TheSearchTab. This particular plugin can be found on Chrome Web Store page under imnhenlnpndflkjebgmgdeemogofccjm ID number. The extension is rated only two stars out of five, and the only two reviews it has are not positive since users simply ask for help to erase the plugin. However, we doubt a lot of users downloaded the described plugin from Chrome Web Store.
During our research we found out Search Extension by TheSearchTab could enter the system with bundled software installers of other untrustworthy applications. Therefore, it is entirely possible some users placed the add-on and received the PUP without even realizing it. Usually bundled software gets installed automatically if users do not deselect it on the configuration wizard, so to avoid any unnecessary and potentially dangerous programs one does not need, the user should always pay attention to provided terms. Plus, it might help a lot to have an antimalware tool you may trust installed, so it could warn you about suspicious software or other threats.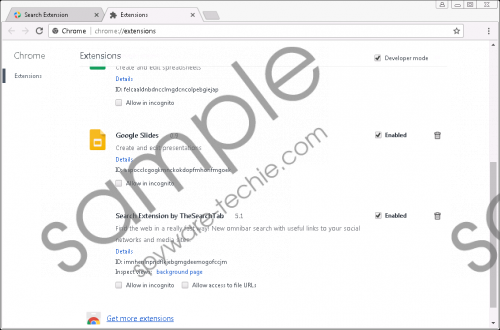 TheTabSearch screenshot
Scroll down for full removal instructions
As soon as the mentioned extension is added to the user's Google Chrome, TheTabSearch should enter the system and replace the default homepage with a search engine titled thetabsearch.com. Consequently, this search engine should be loaded each time the user opens his browser. If you try to search the Internet with it, you might be disappointed as our researchers noticed the application could place annoying third-party advertising content among the shown results. The problem is it is unknown where these advertisements might come from, which means there are no guarantees they will be reliable. Thus, if you do not want to risk encountering more PUPs, malware, fake surveys, and lotteries, or other possibly dangerous content we would advise you to keep away from questionable ads, although the safest choice would be to delete the program that could show such content.
In order to replace your homepage and get rid of TheTabSearch, you should find the extension the PUP came with and remove it as fast as possible. Additionally, we would advise our readers to delete a few browser's files that the application could have modified. Both of these tasks will be explained to you step by step in the removal guide we placed a bit below, so if you need any assistance, you are welcome to use these instructions. Those who find these steps a bit too complicated or want to clean up the system from other possible threats at the same time should install a reputable antimalware tool and perform a full system scan. If you do so, the tool should detect potential threats for you and you could eliminate them all with a single mouse click.
Erase TheTabSearch
Tap Windows Key+E.
Search for these particular paths:
%USERPROFILE%\Local Settings\Application Data\Google\Chrome\User Data\Default\Extensions
%LOCALAPPDATA%\Google\Chrome\User Data\Default\Extensions
Locate folders named as imnhenlnpndflkjebgmgdeemogofccjm.
Select these folders (imnhenlnpndflkjebgmgdeemogofccjm) one by one and press Shift+Delete.
Then access the following directory: %LocalAppData%\Google\Chrome\User Data\Default
Find three files named as Preferences, Secure Preferences, and Web Data.
Mark them all one by one and press Shift+Delete.
Close File Explorer.
In non-techie terms:
TheTabSearch is a potentially unwanted program we would not recommend our readers to keep on their system. The application can appear to be not only quite annoying but also potentially dangerous since it might introduce users to questionable advertising content. Given the PUP does not have any advanced tools to offer and the search engine it provides is unreliable and could be easily replaced with a more reputable one, we do not think it would be wise to let this program stay on the system. If you do not believe it is worth your attention either we urge you not to waste any time with it and erase the suspicious application with the removal guide, we provide a little above, or a legitimate antimalware tool of your choice.