Do you know what Themovie-hub.net is?
Themovie-hub.net is a page that will be set as your new search provider if you ever install the extension with the same name (TheMovie-Hub.net). Our researchers could not find its official website, which suggests that it is installed on users' computers without their knowledge. Most likely, it appears as an additional offer in bundled installers. Additionally, our specialists suspect that users might see advertisements promoting it and install this piece of software by clicking once on these ads. You need to remove the extension promoting Themovie-hub.net to make this website disappear from your web browsers. As research has clearly shown, it is compatible with Mozilla Firefox and Google Chrome browsers, so if you have both of them installed on your system, you will need to remove the extension installed from them both to get rid of the page set. We have to admit that this website set does not look malicious at all. It does not mean that we say that you can do nothing about its appearance because research has clearly shown that it might display some untrustworthy search results. You are the one who needs to make decisions here, but if you cannot decide whether you should remove Themovie-hub.net right away or let it stay, you should read this article first and only then make the final decision.
If your default search tool has been changed to Themovie-hub.net, you must have the TheMovie-Hub.net extension installed on your browsers. This page has a search box in the middle and thus looks like an ordinary search provider, so many users do not hurry to remove it from their browsers. If you are interested in what our specialists think about it, you should know that their opinion about it is not very positive. It is because research conducted by them has revealed that users might be provided with the so-called modified search results if they use this search engine to perform web searches. At first glance, all the search results returned seem to be ordinary Yahoo search results, but this definitely cannot be said about all of them. Some of them only promote certain pages by redirecting users to them automatically. If you have ended up on a page with no information you are looking for, it is very likely that you have clicked on one of these modified search results as well. It should be noted that a random page with no information you are looking for is not the worst place you can be redirected to. Theoretically, these modified search results might take you to a page promoting untrustworthy software as well. If this ever happens to you, you might install bad software on your computer. We are sure you do not want to find any new malicious applications on your system, so we suggest that you do all it takes to prevent them from entering your computer. You should start by removing TheMovie-Hub.net from your browsers.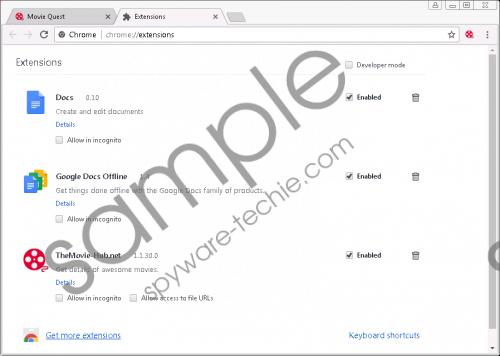 Themovie-hub.net screenshot
Scroll down for full removal instructions
The official website of the TheMovie-Hub.net extension has not been found, so, according to our malware researchers, it is very likely the majority of users do not know anything about its installation on their computers. It might be spread together with third-party software in bundled installers, or it might be installed on users' web browsers the second they click on some kind of advertisement promoting it. This extension is definitely not the only one potentially unwanted program, so if you do not do anything to protect your system today, you might find your browsers' settings changed again in the near future. Of course, you must be more cautious yourself, but what we recommend for you is installing security software. New malware could not enter your system as long as you keep it active.
The potentially unwanted program promoting Themovie-hub.net can be deleted from the system quite easily because it is not real malware. Instead, it is a simple browser extension. You just need to access the add-ons manager on your browsers and then delete it from there with the single click. You should follow our instructions if it is something new to you. You can use a powerful antimalware tool to erase it too quicker.
How to get rid of Themovie-hub.net
Google Chrome
Open Google Chrome
Press Alt+F.
Click More tools.
Click Extensions.
Select the extension named TheMovie-Hub.net.
Click the trash button next to it.
Click Remove.
Mozilla Firefox
Start Mozilla Firefox.
Press Ctrl+Shift+A.
From the extensions menu, select TheMovie-Hub.net.
Click Remove.
In non-techie terms:
Themovie-hub.net has been set on your browsers because a potentially unwanted program has been installed on your computer. It shares the name (TheMovie-Hub.net) with the search tool it promotes. The page is not something very malicious, but we cannot say that it is a good idea to use it to perform web searches because it might return some modified search results, as research has shown. In the worst-case scenario, they might open dubious pages.