Do you know what TheEasyWayPro is?
TheEasyWayPro is a potentially unwanted program that works like a browser extension. It is compatible only with the Chrome browser, so if you use any other browser, there isn't much this extension could do to you. Nevertheless, it is never a good idea to keep a lot of unwanted applications on-board. You should remove TheEasyWayPro and any other unwanted program that might be installed on your computer. If you don't know whether you have more unwanted programs installed, it's time to scan your computer with the SpyHunter free scanner.
How is it that potentially unwanted programs are not direct system security threats, and yet users do not remember installing them? That's because TheEasyWayPro and other similar applications might come bundled with freeware, and users simply do not pay attention to the additional programs that they install on their computers.
In TheEasyWayPro's case, our research team says that this extension can come through pop-ups and fake download buttons. For instance, there are tons of file hosting websites out there, and most of them offer the basic packages for free. To support themselves, these websites have to host commercial content. Unfortunately, they seldom review the content they host, and sometimes random ads might look like download buttons that users could confuse with the actual download button on the said site. If they click those download buttons accidentally, TheEasyWayPro and other unwanted software might easily enter their systems.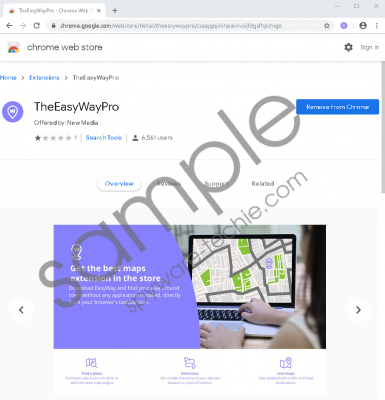 TheEasyWayPro screenshot
Scroll down for full removal instructions
What's more, TheEasyWayPro will not be stealthy about its installation. It will even ask your permission to change your browser's settings. However, users seldom read those pop-ups because they think that the download and installation processes are default, and there is nothing additional to know about them. Thus, they miss such details as browser settings modification. And once TheEasyWayPro is added to the Chrome browser, it might seem that the browser was attacked by a browser hijacker.
Now, why is that? That's because TheEasyWayPro changes your default search engine to srchbar.com and it employs the Bing search engine to provide you with relevant search results. This shows that TheEasyWayPro cannot really provide you with an original search service. Why would you use a third-party search engine when you can just set your search engine on your browser directly? What's more, it is very likely that TheEasyWayPro displays modified search results through its "search service." It doesn't mean that Bing does it directly.
Browser extensions often employ tracking cookies to collect information on what websites you visit and the search keywords. This information is necessary if the extension intends to display commercial content when you browse the web. It is very likely that it will do so if you use the srchbar.com search engine, where the app will show you modified search results. While displaying commercial content is not a crime, some of it might be customized especially for you, and you might feel inclined to click those links.
For the most part, TheEasyWayPro would only redirect you to its partners' websites, but we mustn't forget that extensions do not review the third-party content they promote. In the worst-case scenario, the advertising space and the modified search results could be hogged by a malevolent third-party that wants to promote malware. Once again, we would like to emphasize that it is not TheEasyWayPro's intention to infect you with anything. However, the tool could be easily exploited by cybercriminals, and we do not want that to happen.
Hence, to protect ourselves and our computers from potential threats, we should remove TheEasyWayPro today. While it is not that hard to delete the extension via browser's settings, it would still be a good idea to scan your computer with a reliable antispyware tool. If you do not remember how TheEasyWayPro was added to your browser, there is a very good chance that you have added multiple unwanted applications to your system like that. Hence, the sooner you detect them all, the sooner you will be able to remove them.
Finally, be careful about the programs you download from various websites. Choose only official websites if you need some program, and do not hesitate to scan the downloaded file with the security tool of your choice. That would most certainly help you avoid installing unwanted apps.
How to Remove TheEasyWayPro
Open the Chrome browser and press Alt+F.
Click More tools and open Extensions.
Delete TheEasyWayPro from the list.
Run a full system scan with SpyHunter.
In non-techie terms:
TheEasyWayPro is a browser extension that is supposed to improve your web browsing experience. However, users often add this extension to their browsers accidentally, and then they think that they have been infected with something dangerous. The truth is that you can easily remove TheEasyWayPro from your computer. While you are at it, make sure that you do not have more potentially unwanted programs on-board. If you need help with determining that, be sure to use a licensed antispyware tool.