Do you know what Thecoolestmoviesearch.com is?
If Thecoolestmoviesearch.com search engine comes up in your browser after you launch it, it is definitely not the coolest thing that can happen to you. On the contrary, it simply means that your computer has been penetrated by a browser hijacker. That means that your browsers' settings have been changed without your knowledge and consent, which is a privacy breach and therefore, illegal. Why would you tolerate such an intrusion? What else can an application do that silently performs such changes? Obviously, it will not do anything beneficial for you. As a matter of fact, it may only cause system security issues for you. According to our researchers, there is only one thing you can do to put an end to the risks: You need to remove Thecoolestmoviesearch.com.
It is easy to realize that this browser hijacker has sneaked onto your operating system since Thecoolestmoviesearch.com will be visible right away when you go surfing the web. You should notice the change in your home page as a quasi-toolbar is also added. On this toolbar, you have a search tool and several third-party quick links to websites associated with movies, news, TV, sports, and more. Below the search box in the middle of the page, you can find several easy-access thumbnails that redirect you to popular websites, including Facebook, Instagram, Amazon, and Comedy Central.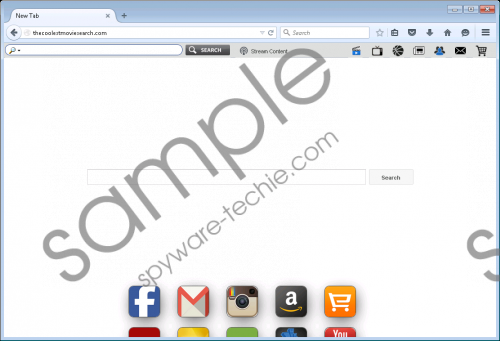 Thecoolestmoviesearch.com screenshot
Scroll down for full removal instructions
If you are a movie fan, you might think that it is a great idea to have such a tool in your browsers. But we must warn you that its presence is not without risk. As a matter of fact, you can never trust the search results since this hijacker may manipulate them by including third-party ads and links. It can also collect information about you, which can be used by third parties – who might as well be criminals – to send targeted advertisements to your computer screen. Since these links may be unreliable, clicking on them might redirect you to malicious websites. If you land on such sites, all kinds of shady things can happen. Since these pages are all misleading or fake, you can end up downloading malware infections while you think you are downloading some "urgent" software update or driver. You might also be tricked into disclosing vital information about yourself, such as your banking details. These are possible scenarios that you must avoid if you want to protect your computer. Therefore, we advise you to not hesitate and delete Thecoolestmoviesearch.com from your browsers now.
Since this hijacker mainly travels in freeware bundles, chances are it arrives in the company of several other malware infections. That is a rather unfortunate thing because it will not be enough to remove Thecoolestmoviesearch.com anymore, but you will also need to eliminate every other threat you may find on-board. In order to identify these malicious programs, we suggest that you run a malware scanner, which you can find online for free.
This browser hijacker does not have its own uninstaller; therefore, you cannot find it in the installed programs list in Control Panel. Although that would be the simplest and quickest way to eliminate this threat, we have a similarly easy solution for you. All you have to do is reset all three major browsers. It will take only a couple of minutes if you follow our guide below, even if you are not an expert. As for the rest of the infections, we recommend using a reliable malware removal tool to identify and clean them from your PC.
Remove Thecoolestmoviesearch.com from your browsers
Internet Explorer
Tap Alt+T and choose Internet Options.
Select the Advanced tab and press Reset.
Tick Delete personal settings.
Press Reset and click Close.
Mozilla Firefox
Tap Alt+H and select Troubleshooting Information.
Click Refresh Firefox and in the pop-up, click Refresh Firefox again.
Click Finish.
Google Chrome
Tap Alt+F and open Settings.
Click Show advanced settings at the bottom.
Click Reset settings at the bottom.
Click Reset.
In non-techie terms:
Thecoolestmoviesearch.com is a browser hijacker that infiltrates your operating system and makes changes to your browsers without your knowledge. Not only is this search engine unreliable, but it may also enter your computer together with other malware programs. Therefore, its presence may mean multiple security issues for you. We recommend that you remove Thecoolestmoviesearch.com as soon as you can along with the other possible threats.