Do you know what TheConverterSearch is?
TheConverterSearch is a browser extension. It is compatible with the Chrome browser, and it is categorized as a potentially unwanted program. Potentially unwanted programs are not malicious infections. They are often just annoying nuisances that reach our computers accidentally. But just like that, it is easy to remove them because they are not terribly sophisticated. Therefore, if you're here just to remove TheConverterSearch from your browser, scroll down for the removal instructions and make sure you get rid of the app through and through.
If you think you've seen this extension somewhere before, you must've met its "brothers and sisters." It's actually really common for extensions and freeware apps to come from a group of similar programs, where every single one of them is based on the same framework, and there are only slight differences in between. For instance, TheConverterSearch is basically a carbon copy of StreamBrosSearch, AllConvertersSearch, SearchConverters, and so on. All these extensions share the layout for their homepage, and they look like useful apps that can do something good for your browsing experience.
However, let's not forget there's an entire lot of users who don't know how TheConverterSearch gets added to their browsers. Actually, if we take a look at the extension's page on the Chrome Web Store, we can see that there have been more than 10,000 installations so far. So, it seems that the extension is used quite a lot, and users find it reliable.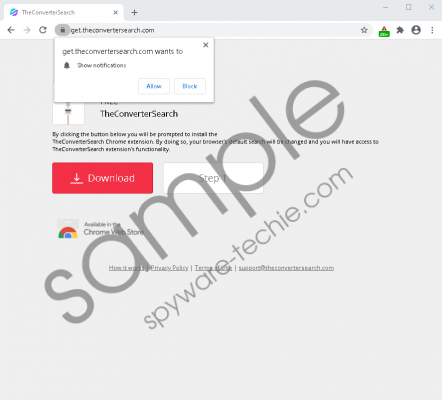 TheConverterSearch screenshot
Scroll down for full removal instructions
Of course, we're not here to say that TheConverterSearch is dangerous or anything like that. Since the app is available is out in the open, it's not an immediate system security threat. On the other hand, aside from the Chrome Web Store and the official homepage, there could be other places where users might encounter the extension, and they could be pushed into adding it to their browser.
For instance, there are multiple websites out there that provide free content. It could be gaming or online videos or anything else. And sometimes, those websites need to display commercial ads to remain afloat. If their content is available for free, they need to make money in some other way, and they do that by promoting third-party content.
Now, some of these ads could be embedded there by the TheConverterSearch developers, and some pop-up or a new window you encounter by clicking anywhere might display a notification that offers adding this extension to your browser. The truth is that you can easily close that notification and the new window, but when users are distracted, they could click anywhere on the notification, which often results in adding TheConverterSearch (or any other new app for that matter) to your system.
With that, no one can blame the application for changing your browser's settings. The extension will modify your default search engine settings, and it will also employ tracking cookies to collect data on your browsing history. All of that is done with your permission! The point is that even if you didn't notice how you added TheConverterSearch to Chrome, the extension still performs everything with your authorization.
And sure, it might seem that TheConverterSearch does offer you a new browsing experience with a built-in search engine, but at what cost? First, you might not be aware of the way the app enters your system. Second, TheConverterSearch could inadvertently expose you to various security threats. Since it collects data on your browsing history, it could also generate custom commercial content and promote it along with the search result links. Clicking on that content is entirely up to you, but if you end up on some dangerous site, you couldn't blame TheConverterSearch for it because it is not responsible for the third-party content security.
Why worry about it when you can just remove TheConverterSearch for good? Simply restore your browser settings to default and then run a full system scan with a licensed security tool. If more unwanted programs are found, please remove them too.
Should you have more questions about computer security or how to avoid unwanted applications, don't hesitate to drop us a comment. Our team is always ready to assist you.
How to Delete TheConverterSearch
Launch the Chrome browser.
Press Alt+F and navigate to Settings.
Press Advanced at the bottom of page.
Select Restore settings to their original defaults.
Click Reset settings to complete.
In non-techie terms:
TheConverterSearch is a browser extension that can change your web search experience. It is up to you whether you want to use it or not. However, if you didn't plan to add the extension to Chrome, it goes without saying that you should remove it. Removing this extension is easy. Once you are done with that, feel free to use the SpyHunter free scanner and scan your computer to make sure that you don't have more unwanted programs on-board. Your system's security, should be your utmost priority.