Do you know what Theater Mode is?
Theater Mode is an adware application that comes forth and tries to convince you it can provide you with a useful service. The official website for the application claims that you can "set the mood on your favorite video websites" by dimming the lights, but nothing is as pretty as it seems. It is strongly recommended that you remove Theater Mode from your computer, as this adware program may inadvertently expose you to malicious content. While you are at it, please make sure that you get rid of all the other potential threats on-board.
For one, we can surely say that Theater Mode is not a genuine virus program. Computer viruses belong to an entirely different category. What's more, it would also be hard to say that Theater Mode is a genuine computer security threat. After all, you can easily download this application from theatermodeapp.com, and if a program comes with an official website, it is already hard to label it as malware.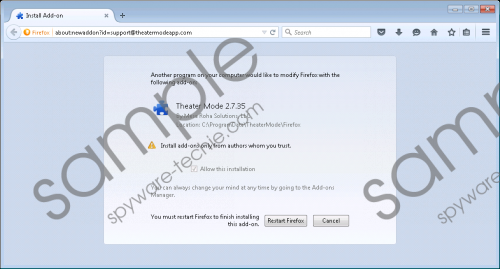 Theater Mode screenshot
Scroll down for full removal instructions
Naturally, the official website is not the only place where you can download this application. In fact, it is far more common for Theater Mode to come bundled with freeware. This means that users install this application unwittingly when they download something from a freeware distribution website. Therefore, you can often choose whether you want this application installed or not, it is just that users seldom check all the setup steps carefully, and that leads to a number of undesirable consequences.
Having Theater Mode on your computer could be one of them. Disregarding the fact whether Theater Mode really dims the lights out on YouTube or any other video streaming website for that matter we have to remember that this application has "partnered with high-quality ad providers to deliver the best user experience possible." This is how the program's collaboration with advertising networks is presented in its EULA. To be honest, it is not surprising that this kind of application displays commercial advertisements. The most important thing is not to panic when you are flooded with unfamiliar pop-ups.
You should never click them because there is a good chance that the Theater Mode ads could be embedded with outgoing links to unreliable websites. Should you click any of the ads accidentally, you could land on a page that is part of a malware distribution network. Thus, through this adware program, you might accidentally get infected with a Trojan, or a ransomware application. As a result, you would have to spend a lot of your time and money trying to remove all the malicious infections.
Prevent that from happening by deleting Theater Mode today. Simply uninstall this program via Control Panel and then scan your PC with the SpyHunter free scanner. As mentioned above, you might have more unwanted applications on-board, so you have to terminate them all at once.
If you are not sure of your software removal skills, you can always invest in a licensed antispyware program that will do the job for you. Should you encounter any difficulties while removing this application, do not hesitate to contact us by leaving a comment below. We will get back to you as soon as possible.
How to Remove Theater Mode
Windows 10
Right-click the Windows icon and click Control Panel on the drop-down menu.
Go to Uninstall a program and remove Theater Mode from the list.
Windows 8 & Windows 8.1
Drag the mouse cursor to the lower right corner of your desktop.
When the Charm bar appears, click Settings and go to Control Panel.
Open Uninstall a program and remove Theater Mode.
Windows Vista & Windows 7
Open the Start menu and click Control Panel.
Go to Uninstall a program and remove Theater Mode.
Windows XP
Click the Start button and select Control Panel.
Select Add or remove programs and uninstall Theater Mode.
In non-techie terms:
Theater Mode is promoted as a video tool that is supposed to enhance your online video watching experience. Unfortunately, this program enters your computer to make money for its creators by promoting unreliable third-party content. It is your job to remove Theater Mode from your computer at once. You also have to protect your system from similar unwanted intruders that might enter your PC.