Do you know what TheAnswerFinder is?
TheAnswerFinder is a free software programs that offers computer users quick access to things users are interested in. More specifically, the program installs a widget featuring a search box and several links to popular websites, including Pinterest and YouTube. The TheAnswerFinder program does not create any extensions or browser add-ons but is compatible with Internet Explorer, Google Chrome, and Mozilla Firefox.
TheAnswerFinder is distributed by Mime Ventures LLC and is promoted at theanswerfinder.com. However, the official website is not the only source of the program. It is also possible to encounter the program when dealing with Amonetize installers. The program is bundled with various freeware programs, such as Genesis and Plus-HD. It is crucial to pay close attention to every installation process because the installation of suspect programs may have adverse consequences such as data loss and system glitches. Now, we recommend that you remove TheAnswerFinder and shield the system from similar programs, because TheAnswerFinder is and advertising-supported program displaying third-party ads.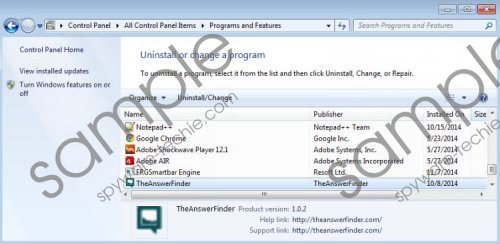 TheAnswerFinder screenshot
Scroll down for full removal instructions
The seemingly useful widget is categorized as adware. It is programmed to display pop-ups, pop-unders, web banners, in-line advertisements, and other types of advertisements. The distributors of the program are not liable for the content of those advertisements, which is why it is so important that you avoid interacting with those third-party advertisements. Bear in mind that it is not enough to ignore TheAnswerFinder pop-ups; the program is monitoring you, i.e., collecting anonymous information about your browsing behavior, so it is essential to remove it from the PC.
Additionally, it is important to mention that by installing TheAnsweFinder, you give the company permission to use the CPU of the system to mine bitcoins, which is an electronic currency generated by machines solving complex algorithms on a special network. If you have TheAnswerFinder of your PC, you have probably noticed that the performance of the computer has changed.
As you can see, it is crucial to pay close attention to every installation process and get acquainted with the license agreement or privacy statement. Below you will find our step-by-step instructions which should help you remove TheAnswerFinder, but we recommend that you implement a powerful anti-malware program which can both remove TheAnswerFinder and safeguard the system against multiple threats. Our team recommends using SpyHunter because this security program can fight off Trojan horses, browser hijackers, ransomware infections, rogue anti-virus programs, and many other threats.
How to remove TheAnswerFinder
Windows Vista and Windows 7
Open the Start menu.
Click Control Panel.
Select Uninstall a program.
Remove the unwanted program.
Windows 8
Press Win+R and enter control panel.
Click OK.
Select Uninstall a program.
Remove the advertising supported program.
Windows XP
Open the Start menu.
Click Control Panel.
Select Add or Remove Programs.
Remove TheAnswerFinder.
In non-techie terms:
TheAnswerFinder is a free computer program aimed that enhancing your searching experience; however, it only hampers your browsing sessions. Hence, you should remove it from the computer in order to avoid redirection to unreliable websites. Use the instructions provided below to install our recommended program, which will remove TheAnswerFinder with ease.